National MS Society Honors LyondellBasell with 'Circle of Distinction Award' for Raising $1.4M
LyondellBasell, an established name in the plastics, chemical and refining industry, has been honored with the Circle of Distinction Award from the National Multiple Sclerosis Society for raising $1.4 million to benefit the society and the multiple sclerosis (MS) community.
Since 1998, the company has participated in the MS Society's annual fundraiser in Texas, the BP MS 150 bike ride. The two-day bike-riding event is the largest of its kind in Northern America, with nearly 13,000 cyclists and 3,500 volunteers participating, and numerous spectators along a route that stretches from Houston to Austin. Company officials also presented the MS Society with a team jersey, which will be displayed in the society's Hall of Fame in Houston.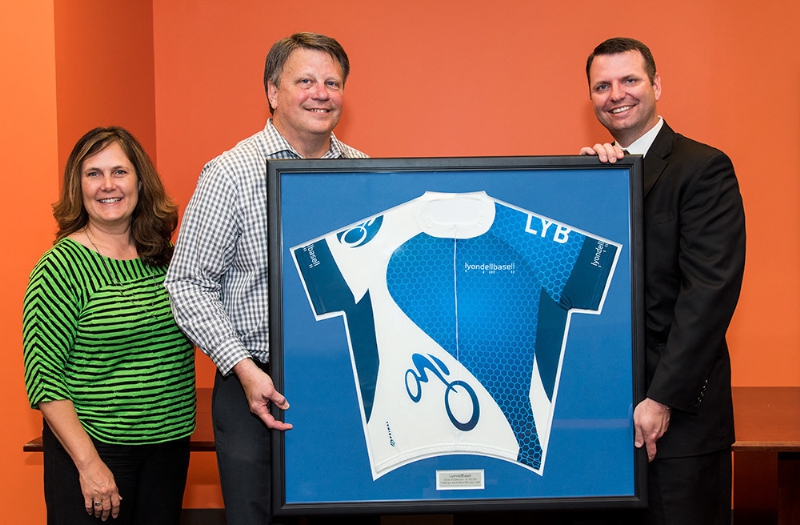 "Members of the Society's Circle of Distinction demonstrate their commitment to the Society's mission through their extraordinary financial leadership and generosity," Mark Neagli, president of the MS Society's South Central Region, said in a press release. "We are deeply grateful to LyondellBasell and their extraordinary employees who are dedicated to bringing us closer to a world free of multiple sclerosis."
A total of $20.3 million was collected through the fundraiser in 2015, and so far this year, riders have collected more than $13 million — with money still coming in. The 2017 ride is set to take place on April 29–30.
"At LyondellBasell, we believe in the power of many and I am extremely proud of the hundreds of LyondellBasell employees who have participated in this event over the years, and helped us reach the milestone of $1.4 million dollars raised," said Jim Guilfoyle, senior vice president of Global Intermediate & Derivatives and Global Supply Chain at LyondellBasell, and a member of the company's cycling team.
The National MS Society works to mobilize people and resources to help those affected by MS live the fullest lives possible, and to advance research into better treatments with the goal of finding a cure. In 2015 alone, the society invested $54 million in 380 research projects worldwide.