Muralist Lydia Emily Uses Art to Publicize Hardships of Life with MS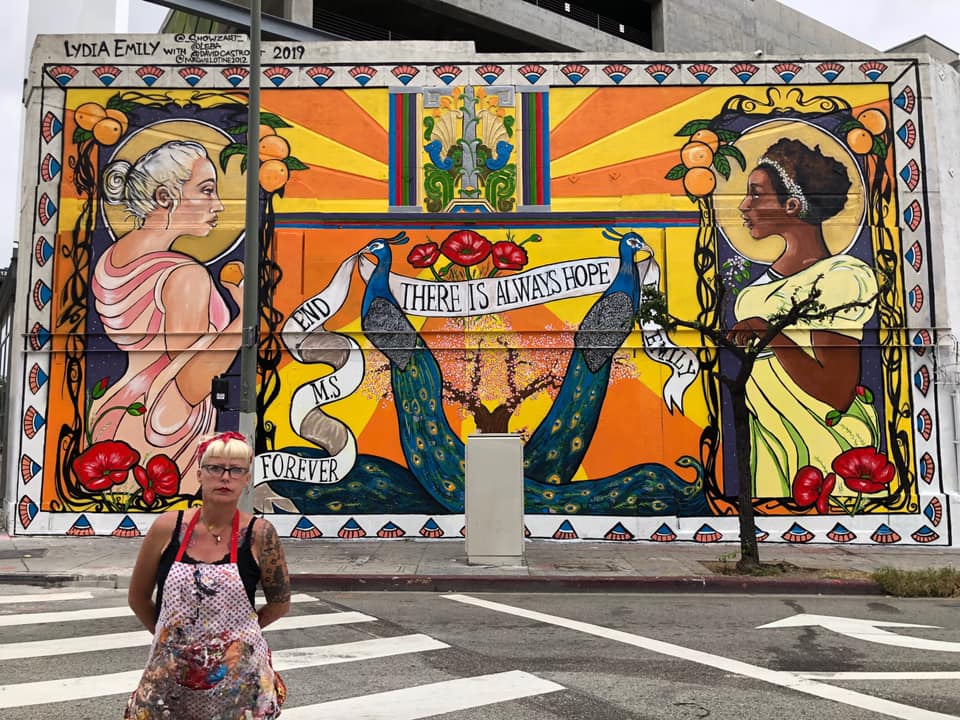 Perched atop a lift at the intersection of Main and Third streets in downtown Los Angeles, artist Lydia Emily cheerfully answered questions from a reporter 2,500 miles away via cellphone while working on a mural three stories high. Periodically, she interrupted the interview to banter with co-workers, and gawking passersby.
Her good humor belied the fact that Lydia Emily – her last name is Archibald, though she rarely uses it – takes up to 28 pills a day to ward off the constant pain associated with multiple sclerosis (MS), with which she was diagnosed in 2014. She also must drink two pots of coffee to counteract the drowsiness from all that pain medication.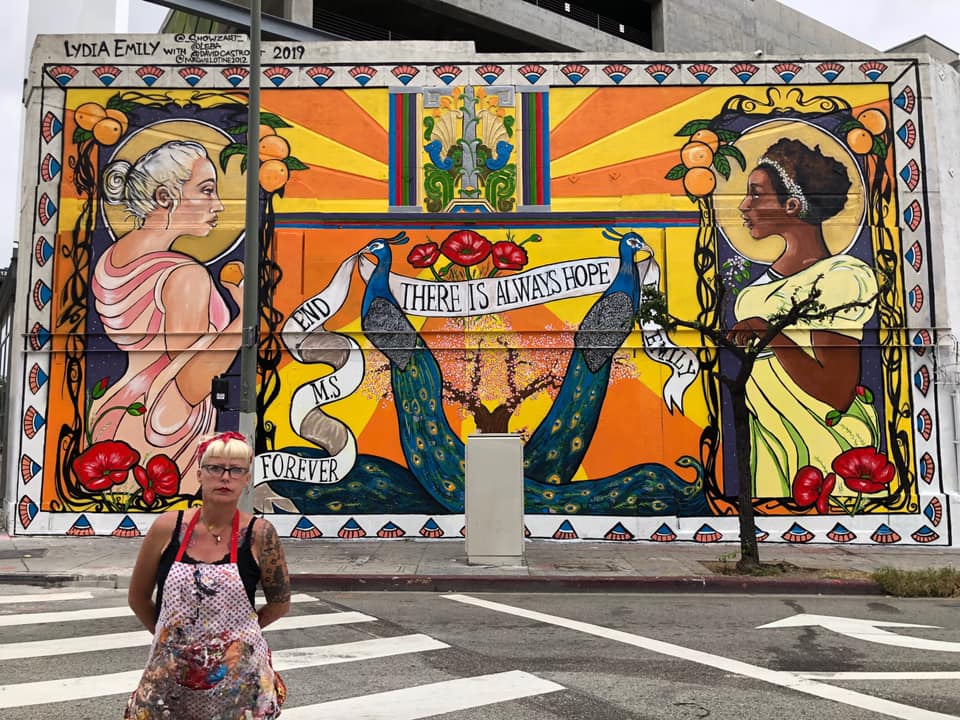 But dealing with adversity is nothing new for Lydia Emily, 47. It's a challenge she has embraced along with raising two daughters as a single mother, including a 16-year-old with autism, and overcoming cervical cancer in 2012.
Lydia Emily, a Chicago native who traveled the world with her parents before settling in Los Angeles 17 years ago, describes herself as a self-taught artist who flunked the only art class she ever took. Despite that initial setback, her work has been featured at shows in Milan, Berlin, Los Angeles, New York, Miami, Washington, D.C., and San Francisco.
Lydia Emily has always used her art to bring attention to international political and social issues, like sex trafficking and the displacement of people. She started as a street artist, but now focuses on murals and portraits.
"I was always socially conscious," said the artist, whose mother was a civil rights activist. "My motto has always been, 'art can do more than just hang. It can help.'"
'MS On My Mind'
In recent years, Lydia Emily has added MS to her list of causes. Her largest project is 'MS On My Mind,' an effort funded by EMD Serono to highlight the emotional and physical toll MS takes on those with the disease, as well as their caregivers.
'MS On My Mind' encourages people to share their stories through its website. Using those stories, Lydia Emily — the campaign's creative director — has painted five portraits that capture how MS affects people's daily lives in ways that often are invisible to others.
In one painting, for instance, a woman dries her hair with a blow dryer resembling an anvil to illustrate how heavy things feel to those with MS. In another, the leg of a man sitting in a chair is painted as an anchor to highlight the common MS "drop foot" symptom that makes feet feel so heavy.
As part of the campaign, in 2015 Lydia Emily created large murals with hopeful messages for those affected by MS in four cities: Los Angeles, California; Houston, Texas; Portland, Oregon; and Louisville, Kentucky.
Recently, she painted portable eight-square-foot murals during Walk MS events in San Diego, California, Tampa, Florida, and Charlotte, North Carolina, that people could inscribe with their own messages. The three murals were shipped to Seattle, Washington, and assembled into one 24-foot-long mural.
In late April, Lydia Emily gave the keynote speech at the National MS Society's 15th Annual On the Move luncheon in Washington, D.C., and also testified before the U.S. Senate on the need to control the rising prices of MS therapies.
Staying busy despite constant pain
"It's a busy life, for sure," she said. "I'm happy to be doing all the work I'm doing."
Lydia Emily maintains a hectic schedule despite constant pain from MS. She became blind in her left eye a year ago. Her right leg feels like it's on fire, and she uses a cane. She has to tie a paint brush to her hand because of her tremors.
She's taken four MS medications, none of which have worked for her disease type, secondary progressive MS (SPMS). She's about to start another medication, and is optimistic about its effectiveness.
Still, Lydia Emily loves her work and has many different projects going at once. For every mural she gets paid to do, she paints another using her own money, and for every portrait she gets paid for, she gives one away for free, she said.
On her own, Lydia Emily has painted murals with inspiring messages in various cities. The art-nouveau mural she was painting during her interview with MS News Today is for all those who deal with other kinds of challenges — from lupus to difficult relationships. They also need hope, she said.
"I feel like anything I can do to broaden our community," said Lydia Emily. "Making our family bigger is what I want to do."