Proposed Anti-inflammatory Treatment Found Non-toxic in Zebrafish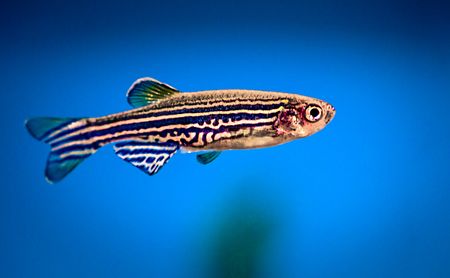 An anti-inflammatory molecule — taken from a venomous fish and named TnP — with the potential to treat multiple sclerosis (MS) proved safe, without signs of cardiac or neurological problems in a recent zebrafish study, and also was found to be able to enter the brain.
The findings open the molecule's path toward future drug development.
The study, "Early preclinical screening using zebrafish (Danio rerio) reveals the safety of the candidate anti-inflammatory therapeutic agent TnP," was published in the journal Toxicology Reports.
TnP is a peptide, or short protein fragment, from the venomous toadfish Thalassophreyne nattereri, found along Brazil's northern and northeastern coasts. It has shown anti-inflammatory and anti-allergic effects, as well as preliminary effectiveness in treating MS and asthma in mouse models of those conditions.
Researchers at the Butantan Institute Special Laboratory for Applied Toxicology, in São Paulo, Brazil, recently found that TnP can delay the onset of more severe MS symptoms in mice and lessen their impact. But the toxicity of this compound has yet to be addressed in animal studies.
The zebrafish, a common laboratory animal used in early drug development, is deemed a good candidate to test toxicity as an alternative to rodents and other mammals. It shares about 70% of its genome with humans and has conserved metabolism and physiology.
To examine TnP's toxicity, the same Brazilian team now explored the effects of this compound on the fishes' embryos, on their larval growth, and on their general development. The impact on heart and brain structures also was assessed.
They found that doses ranging from 1 nanomol (nM) to 100 micromoles (uM) lacked acute toxicity. Specifically, eggs exposed to TnP survived to hatching, with a low percentage of developmental abnormalities, such as hooked tails, particularly in the lower doses.
These doses also did not associate with toxic cardiac effects, the team found.
"Drug-induced cardiotoxicity is the major reason for drug withdrawal from the market," the researchers wrote, noting that, "between 1994 and 2006, 45% of discontinued medications had adverse [cardiac] effects."
The scientists further explained that the zebrafish is a well-established model organism for conducting cardiovascular research.
"It doesn't substitute mice, but avoids future expense on molecules that may not be promising or prove too toxic in previous phases," João Batista-Filho, a master's student who led the research, said in a press release.
At the highest dose — 10 mM — TnP did appear to affect heart growth, leading to a 3% increase in the size of the pericardium, or the membrane enclosing the heart, and an 8.4% increase in heart size. However, because these changes did not impact cardiac function, the investigators interpreted them as evidence that TnP might actually promote muscle growth.
The team also observed that TnP crossed the blood-brain-barrier (BBB), a semi-permeable membrane that prevents most molecules from entering the brain. Moreover, it did so without showing signs of neurotoxicity, such as changes in the sizes of brain structures.
Crossing the BBB is an important feature of potential MS therapies, as the disorder damages the nerves of the central nervous system, consisting of the brain and spinal cord.
One aspect of TnP's low toxicity that may require fine-tuning further in the drug development process is the ease with which zebrafish could excrete it. While this might contribute to safety by preventing unsafe levels of accumulation, a therapeutic compound needs to last within the body for enough time to produce an effect.
"Thus, our findings point to [a] requirement to increase bioavailability of this type of molecule," the investigators wrote.
"The results of this study confirm a broad therapeutic index for TnP, a drug candidate for neuro-inflammatory diseases, and highlight the importance of zebrafish as an accurate investigative toxicology model to assess acute toxicity as well as cardiotoxicity and neurotoxicity of molecules in the preclinical phase of development," the team concluded.