#MSParis2017 – Mavenclad Is 'Smart' Therapy for Active Relapsing MS, Researcher Says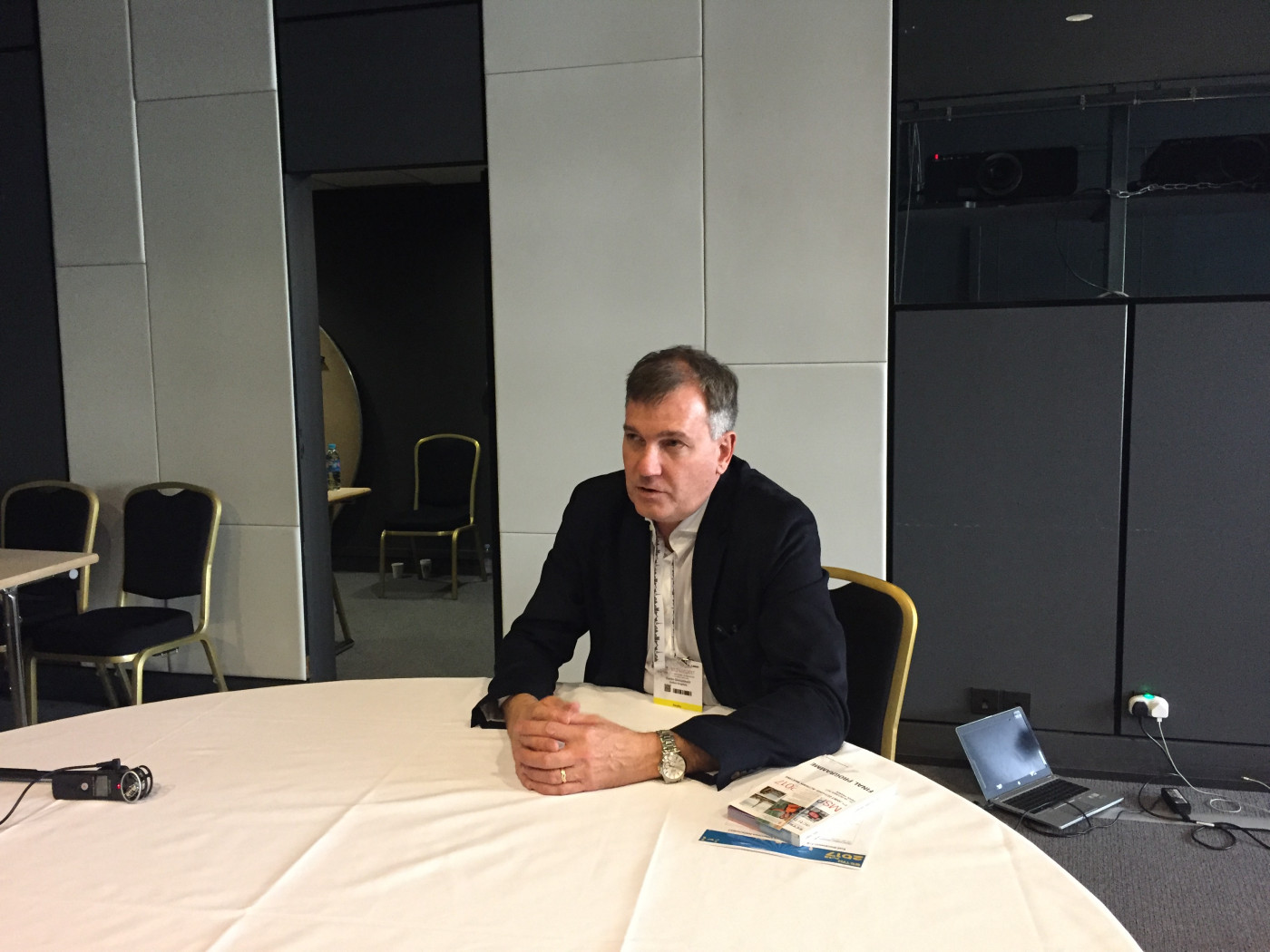 Mavenclad (cladribine tablets), an oral therapy by Merck that's approved to treat people with active relapsing multiple sclerosis in much of Europe, is a "smart therapy" that is showing real and long-term benefit after a short treatment course, said Gavin Giovannoni, chair of neurology at Barts and The London School of Medicine and Dentistry.
Giovannoni spoke with Multiple Sclerosis News Today about Mavenclad and its ability to reduce relapses and prevent the development of inflammatory lesions in these MS patients at the 7th Joint ECTRIMS-ACTRIMS Meeting in Paris, which concludes on Saturday.
A lead investigator in the CLARITY studies (NCT00213135 and NCT00641537) that evaluated the therapy, Giovannoni showed at ECTRIMS that a higher proportion of patients with active relapsing MS achieved NEDA with the treatment compared to placebo. NEDA stands for "no evidence of disease activity," a composite measure that takes into account relapses, disability progression, and magnetic resonance imaging [MRI] activity.
"The relative chance of meeting NEDA is about 3.5 times greater with cladribine versus placebo," Giovannoni said in the interview.
But, he added, this "is kind of a flawed comparison" because the baseline MRI scan of patients was compared against one taken two years post-treatment — resulting in 47 percent of patients reaching NEDA — while "the drug takes a bit of time to work."
A team is currently doing a new analysis to compare the two-year post-treatment scans to six-month post-treatment scans — when Mavenclad's effects should be at play. Giovannoni believes the results of this new analysis will be even better.
"Forty-seven percent is actually very, very good, two years compared to baseline. But I think it is going to get much, much better when we go to two years versus six months," he said. Such results would place "cladribine at a very high efficacy record as a very effective therapy … giving people a chance of being activity-free and stopping them from having any relapses."
Among other topics discussed in the interview were Mavenclad's mechanism of action as an immune-reconstitution therapy, the timing of additional treatment courses should they be needed, and lymphopenia (an abnormally low level of lymphocytes in the blood) as an adverse effect of the drug — but one he was not overly worried about.
Based on data seen so far, "lymphopenia is not going to be a big issue clinically," Giovannoni said.
Mavenclad differs from most other oral MS therapies in that a short treatment course — a maximum of 20 days — triggers effects seen to be upheld for up to four years, allowing patients to benefit without being continuously on medication.
Asked if this was one of its greatest advantages compared to other MS therapies, Giovannoni simply said, "absolutely."
The researcher also spotted other points that, in his opinion, were notable advantages. Namely, he said: Mavenclad is an immune-reconstitution therapy and therefore "tries to get to the cause of MS";  "it is quite selective in the way it depletes cells," targeting T- and B-cells but leaving innate immune cells intact, so as to avoid a higher risk of bacterial infections; and the fact that "the level of T-cell depletion is not that great, so we don't see that many opportunities for infections."
He also emphasized Mavenclad's "rate of killing." The treatment kills T- and B- cells gradually and selectively over time — "it doesn't just blast the cells and kill them in a couple of hours" —  reducing infusion-type reactions, a point he called "a big advantage."
"Another advantage of cladribine is that it …. [works] very quickly, it's in the circulation for a few hours and out the body within about a week, so … if you are a woman who wants to start to extend your family, knowing that the drug is out of your system is quite reassuring," Giovannoni added.
Giovannoni concluded the interview by calling cladribine a "smart therapy." It targets "a population of cells we think drive MS, leaving the rest of the immune system  intact. So it has got quite a unique profile compared to other agents," he said.
The researcher believes the therapy might also be effective in progressive MS, and hopes to one day test it in this patient population.
Mavenclad was recently approved in the European Union to treat relapsing forms of multiple sclerosis, making it the first highly effective and oral short course therapy available for patients in Europe. Merck plans to request approval for the drug in other markets as well.
The complete interview can be seen below: