EpiPen and MS Drugs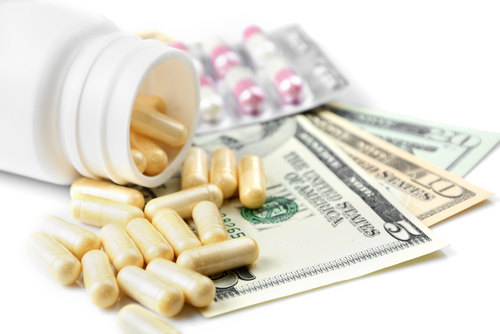 If only we were cherub faced children, then perhaps someone would have listened to us in the past few years as we voiced concern and then outrage over the escalating costs of our MS disease modifying therapy (DMT) drugs.
I've listened to the outcry in recent weeks about the astronomical increase in the price of EpiPen, a prefilled auto-injection syringe of epinephrine, used to help people who having an allergic reaction which could cause anaphylactic shock and lead to possible death. This life-saving injection has gone from  $100 for two pre-filled syringes in 2009, to $600 today. It is getting attention not only because of the cost, but because the most visible user of the EpiPen are children who count on us to keep them safe.
I can't help but wish someone or something would create this type of attention for the price for our MS drugs because we've also faced astronomical increases in those costs. The cost of multiple sclerosis drugs in the US and the pharmaceutical industry, published in 2015, called attention to this problem and found, according to researchers: "First-generation DMTs, originally costing $8,000 to $11,000, now cost about $60,000 per year. Costs for these agents have increased annually at rates 5 to 7 times higher than prescription drug inflation. Newer DMTs commonly entered the market with a cost 25%–60% higher than existing DMTs."
Sure, we are not all cute little children.  There are pediatric MS patients, but we are mainly ordinary adults just trying to get by. Not having our multiple sclerosis drugs isn't an immediate life or death situation as it is for people in the midst of a serious allergic attack, but maintaining access to our medicines is important for our future health and independence.
The argument would be made that we never pay the full prices for the MS DMTs. And yes, just like the EpiPen, there are assistance programs that people can use to help lower their out-of-pocket costs — but that doesn't solve the real problem of out of control prescription drugs prices rising.
The outcry about the EpiPen cost brings into focus again the problem with uncontrolled industry pricing in the United States for all prescription drugs, but we know from history of other price escalation concerns that our attention span is short.  There will be something worked out for EpiPen users, and the uproar will stop.  Or there won't be a solution and we will still stop being outraged — which seems to be what happens more often. Remember last year when a new company bought the HIV drug Daraprim and the cost went from $13.50 to $750.00 a pill? Sadly, nothing has changed on that front, and here is what that out of reach price for 60 Daraprim tablets looks like today when I last checked GoodRX.com –
A year after the current MS DMT study appeared, the prices of the MS drugs have continued to rise without a public rallying point to demand that the manufacturers be accountable for the costs. I can't help but wonder aloud if the situation will ever change. Or is our system in the U.S. for pharmaceutical pricing so irretrievably broken that it can't be fixed?
As for parents struggling to find ways to afford the EpiPen, they have champions for their cause. I hope there will be no children harmed while this plays out.  I'm open to ideas for how to engage people to be as concerned about the cost of our other MS drugs.
Note: Multiple Sclerosis News Today is strictly a news and information website about the disease. It does not provide medical advice, diagnosis, or treatment. This content is not intended to be a substitute for professional medical advice, diagnosis, or treatment. Always seek the advice of your physician or other qualified health provider with any questions you may have regarding a medical condition. Never disregard professional medical advice or delay in seeking it because of something you have read on this website. The opinions expressed in this column are not those of Multiple Sclerosis News Today, or its parent company, BioNews Services, and are intended to spark discussion about issues pertaining to multiple sclerosis.
[i] http://www.neurology.org/content/early/2015/04/24/WNL.0000000000001608.abstract