#AANAM – Gilenya at 0.5 mg Superior to Copaxone at Lowering Relapses, Phase 3 Trial Shows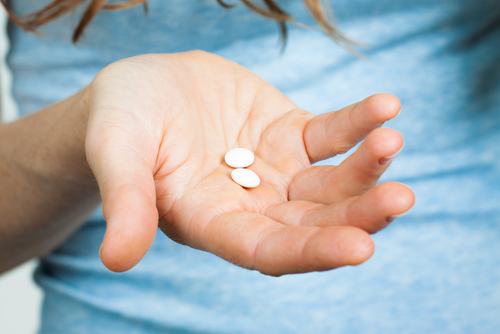 Oral Gilenya (fingolimod) taken daily at a 0.5 mg dose is superior to Copaxone (glatiramer acetate) injections at lowering relapses and disease activity over one year in patients with relapsing–remitting multiple sclerosis (RRMS), according to results of a Phase 3b trial.
The research, "Efficacy and Safety of Fingolimod 0.5 mg and 0.25 mg Versus Glatiramer Acetate 20 mg in Patients with Relapsing-Remitting Multiple Sclerosis − ASSESS Study Group," was presented at the recent 2019 American Academy of Neurology (AAN) Annual Meeting by Bruce Cree, MD, PhD, clinical research director at the University of California San Francisco (UCSF) MS Center.
Previous results of a Phase 3 clinical trial (NCT00340834) showed that  Gilenya (marketed by Novartis) at 0.5 mg — the dose recommended for adults and children weighing above 40 kilograms (about 88 pounds) — had superior efficacy to Avonex (interferon beta-1a, by Biogen).
Such head-to-head comparisons of disease-modifying therapies can help to inform treatment decisions made by doctors in the clinic.
A team from the U.S., Canada, and Novartis conducted the multi-center, Phase 3b ASSESS study (NCT01633112) to determine whether the 0.25 mg and the 0.5 mg doses of Gilenya were more effective than 20 mg of Copaxone (by Teva) in easing disease activity over 12 months in RRMS patients.
In total, 1,064 participants (mean age, 39.6 ) were randomized to either once-daily oral Gilenya at 0.5 mg (352 patients) and 0.25 mg (370 patients), or to subcutaneous (under-the-skin) Copaxone injections (342 patients).
The trial's primary endpoint, or goal, was a reduction in annualized relapse rates — the number of confirmed relapses per year — while secondary endpoints were magnetic resonance imaging (MRI) measures of disease activity at 12 months. Safety and tolerability were also assessed.
A total of 859 patients (80.7%) completed the study. Over its 12 months, the relapse rate was 0.153 with Gilenya 0.5 mg, and 0.258 with Copaxone, a 40.7% difference. The 0.25 mg dose of Gilenya had a 14.6% rate difference to Copaxone, but this was not statistically significant.
In comparison to Copaxone, both 0.5 mg and 0.25 mg doses of Gilenya led to a significant reduction in the mean number of new or newly enlarged T2 lesions seen on MRI — 54.4% and 42.1% reductions, respectively — and in gadolinium-enhancing T1 lesions, with 55.6% fewer for both doses. (T1 lesions refer to areas of active inflammation and disease activity, while T2 lesions account for the total number of lesions, both old and new lesions.)
Side effects associated with both Gilenya doses were in line with the therapy's known safety profile, the researchers reported. A higher proportion of patients treated with Copaxone discontinued treatment due to injection-related adverse events, consent withdrawal, and unsatisfactory therapeutic effects.
Results showed that "fingolimod [Gilenya] 0.5 mg is the optimal efficacious dose in patients with RRMS," Cree said, adding that the therapy "showed superior efficacy versus [Copaxone] in reducing disease activity."
Gilenya "is the first and only disease-modifying therapy to show superior efficacy in reducing disease activity versus GA [Copaxone] in a controlled head-to-head study," the study concluded wrote.
Of note, five of the study's 14 authors are affiliated with Novartis.