Cervico- … what? MS-Related Dizziness and Neck Spasms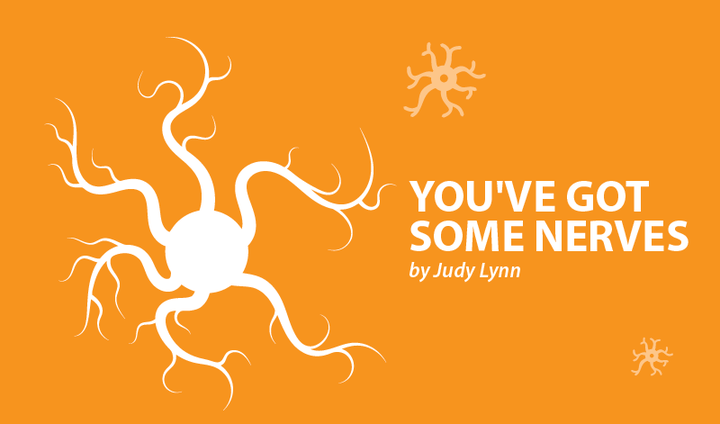 Multiple sclerosis is so weird. Sometimes I just put up with a strange sensation or painful problem because I do not know how to describe it to the doctor without sounding crazy.
I hope the problems will just go away, and sometimes they do. Maybe I am a little gun-shy from the year prior to my diagnosis, when each symptom I complained about just brought me a new antidepressant.
A couple of years ago, after suffering in silence for many months, I scheduled an appointment with a neurologist. Waiting in the exam room, symptom list in hand, I worried. My new sensation was causing problems, but I did not know how to describe it. The kind (and unusually personable, for a neurologist) doctor greeted me warmly. We covered the usual suspects — fatigue, paresthesia, foot drop. He asked if there was anything else.
"Well, sometimes I get a really weird sensation in my head," I stammered. He asked questions: Was it painful? No, not really, just very uncomfortable. Where did I feel it? Sort of in my neck and the base of my skull. Could I describe it?  The words finally tumbled out of me, in an awkward rush of pent-up stress.
"This will sound weird, but it feels like a giant hand is grabbing my head and squeezing the back of it. Or like I'm in a pressurized room, and my head is being squished. My neck gets really tight and I get kind of dizzy and sometimes it's like the floor or the walls tilt. If I'm standing I sort of lose my balance, and if I'm sitting it feels like my head jerks to one side, but I don't know if it really does."
Thankfully, the kind doctor did not call for a priest to perform an exorcism. He asked about neck spasms and felt along my shoulders, neck and skull. He gently reminded me that I have lesions in my cervical spine and explained that this was likely a type of vertigo caused by neck spasms and my damaged nervous system. A prescription for Baclofen was sent to the pharmacy.
I have since sought additional ways to minimize this sensation, otherwise known as cervicogenic dizziness.
Good posture
Make sure any screen (computer, phone, TV) is at eye level
Get up and move around, don't sit in one position too long
Shoulders down and back, sit up straight
Pilates lessons have helped with my posture and overall muscle spasms
Stretching
Take this over-enthusiastic stretcher's advice. G-E-N-T-L-E neck stretches. Less is more!
A heat pack can loosen neck muscles
Ask a pro for some stretching tips
Yoga, under the guidance of an instructor, is useful. I hurt myself if I try to do more than cow-cat at home; Or corpse pose, I am super good at that one!
Professional support
Massage therapy is my most effective treatment. However, it is not covered by my insurance for chronic conditions. So…
Chiropractic care can be useful. Word of warning: If my neck spasms are too severe, then chiropractic makes it worse. Pre-treatment with something like Baclofen may help.
Physical therapists can teach proper stretching techniques
Occupational therapists ensure that daily work and living activities do not aggravate neck problems
Check with your employer, local Division of Rehabilitation, or National MS Society to request an ergonomic assessment and modifications to your work environment.
Vitamins, Minerals and Supplements – Oh my!
Ask a naturopath or nutritionist for dietary and supplement recommendations
The National MS Society also has some information on supplements for MS
Calcium and magnesium (together!) relieve muscle spasms. I use a powder that dissolves in water for quick absorption.
Potassium also works well and is easy to get from bananas, coconut, dark leafy greens, avocadoes, sweet potatoes and other yummy foods.
Curcumin supplements seem to help my MS overall, including this dizziness
This is just one of many MS symptoms. When you throw in the other demands of life, it is to be expected that one cannot maintain "best practices" at all times. My recent 10 days of travel made MS management quite challenging. Multiple airplanes, buses, heavy luggage, uncomfortable conference chairs, awkwardly placed presentation screens, and stiff hotel pillows all conspired to invite my cervicogenic dizziness out to play.  I took a little more Baclofen than usual. Thoughts of Botox bounced in my head as I lay in corpse pose on the hotel room floor. Elevators were favored over stairs, or — heaven forbid! — escalators. An unintentional sway or head-shift was just an opportunity to smile broadly at whoever I found myself looking at. Hopefully I passed as either super friendly or tipsy, or maybe both.
Note: Multiple Sclerosis News Today is strictly a news and information website about the disease. It does not provide medical advice, diagnosis, or treatment. This content is not intended to be a substitute for professional medical advice, diagnosis, or treatment. Always seek the advice of your physician or other qualified health provider with any questions you may have regarding a medical condition. Never disregard professional medical advice or delay in seeking it because of something you have read on this website. The opinions expressed in this column are not those of Multiple Sclerosis News Today, or its parent company, BioNews Services, and are intended to spark discussion about issues pertaining to multiple sclerosis.