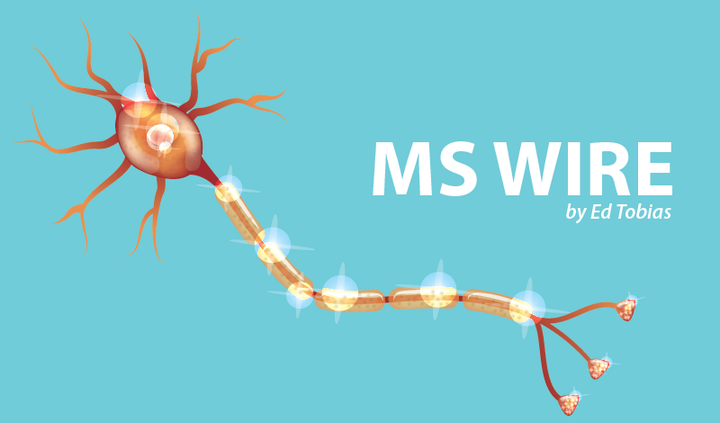 To scoot or not to scoot? Is is better to drag your legs around for as long as you can, or to give in and get yourself a set of electric wheels?
That decision prompted the following vent on a multiple sclerosis Facebook group recently:
"I'm just wondering if anyone has this happen to them. Every time I go to the store I have someone roll up on me in their electric scooter and tell me I need to get one. Every time my response is the same, 'I refuse to use one until I absolutely have no other choice' and then they shake their head at me like I'm crazy. Granted, I know how I look pushing my walker (which I refused to use for a long time and just clutched onto walls), and dragging my dead weight of a right leg behind me, red faced and sweating with the effort, but for now I am able to walk so I do, is that really such a bad thing?"
For many years, I felt the same way as that writer in that Facebook group. It took one trip-and-fall too many to convince me to find some walking help. I began using a cane; first a fold-up, used only occasionally, then a nice-looking wooden cane that I used all the time. That was in the late 1990s, close to 20 years after being diagnosed with MS.
I started using a scooter in the summer of 2000, when a colleague suggested I rent one to get around the large Staples Center in Los Angeles, and at Philadelphia's First Union Center (now the Wells Fargo Center), while covering the political conventions being held in those cities. Riding, rather than walking, gave me the mobility I needed to do my job. I scooted whenever I was at those venues, and at the the end of each long working day I parked, plugged the scooter into its charger, and walked out of the convention center. Without using the scooter, someone probably would have had to have carried me out.
Four years later, my wife convinced me to buy my own scooter. My Pride Sonic (now called a "Go-Go") separates into four parts. The heaviest was about 35 pounds, so I could disassemble the scooter, throw it into the back of my SUV, and take it to work with me. That gave me two benefits: I could move around our news bureau in Washington, D.C., which covered three large floors, faster than anyone else; and I also saved a ton of personal energy.
That Sonic also came with my wife and me on cruises to Alaska and the Mediterranean, but eventually it became too heavy and cumbersome for travel. So, enter the TravelScoot. This is a 35-pound scooter that can be folded like a baby stroller. I can ride it right up to an aircraft door where it's stowed (folded in a coat closet, or unfolded in the cargo bay), and it's returned to me at the door when we arrive. I still use a larger scooter (now a Go-Go) to get around town and to walk our dog. (And when we go grocery shopping, my wife rides the Go-Go and I ride the TravelScoot). But the TravelScoot is, as the name suggests, primarily my travel scooter. It has wheeled me around the ruins of Ephesus in Turkey, and been "tendered" from a cruise ship onto the shore at Santorini, Greece.
I'm not advocating for particular brands of scooters. An online search will turn up dozens, at prices ranging from $900 to $4,500 or so. You probably will have to pay for it yourself. Unless your doctor will certify that you need an electric scooter to get around in your home, it's unlikely that Medicare, Medicaid, or your private insurance will pay for it.
We are sorry that this post was not useful for you!
Let us improve this post!
Tell us how we can improve this post?