'Patiently Awakened' Explained: The Story Behind the Column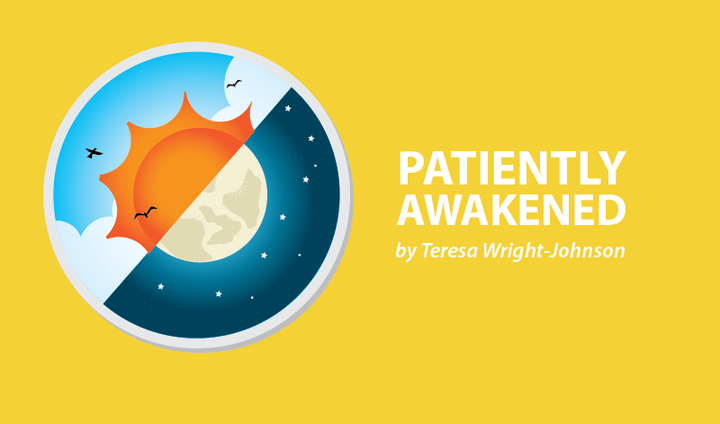 Someone asked me to fully explain the title of my column, "Patiently Awakened." My column title provides a brief description of what it means to me and my intentions for readers. I thought it would be best to elaborate in the column itself.
Patient as a noun refers to "a person receiving medical treatment." Patient as an adjective means "being able to accept or tolerate delays, problems, or suffering without becoming annoyed or anxious." It means to remain calm. I have been a patient for as long as I can remember and have received medical treatment for most of my life. I understand what it means to be a patient, and I have learned to play my position well. I advocate for my care, ask questions about what I do not understand and address issues and/or concerns that I feel are pertinent. Although having medical issues and chronic illness is not easy, being a patient is familiar territory to me. Having patience is a different battle. This was and continues to be a challenging endeavor.
If I had to describe myself, patient would not readily come to my mind. I am ambitious and I believe in doing my best. I have been told that I am persistent, and some even describe me as aggressive. When I set my mind to something, I want to see immediate results. It is grueling to accept things that I do not agree with or tolerate anything that annoys me, throws me off the course of my endeavors, or causes me any discomfort or suffering.
So, although being a patient was normal for me, exercising patience has been my Achilles' heel. However, living with MS and heart disease often gives me no other options. We know that life itself will force you to practice the skill of being patient. It strives to make you an expert. Life does not care if I am impatient, and my illnesses do not care how many plans I have and what deadlines I set for myself to achieve my goals. Life happens on its terms.
Managing to be a patient with patience placed me in a conundrum. I was a master on one hand and a novice on the other. What was I to do? I began reflecting back to times in my life when being a patient compelled me to practice patience. Those times when my head wanted to do more, but my body did not, and could not, cooperate. The times when life reminded me that I am nothing more than a student on this course. I had to learn to listen to my body and accept the limitations.
This was the genesis of my personal journey to comprehending the discipline of being patient. As a young person, my parents would tell me that I had to be patient. They said that I could not rush life and that everything happens in time. This used to frustrate and perplex me. I wanted some element of control over my life. I am discovering that patience is indeed a virtue, and everything unfolds in its time. I am grasping that I have to give my mind and body time to heal. I also realize that healing does not always occur solely in the physical realm. I recognize that there are mental and spiritual aspects of healing. This is what I refer to as my awakening process.
Awake means to "rouse from sleep." Figuratively, chronic illness has awakened me in more than one way. It has strengthened my sense of gratitude, tested my will and boundaries, and has mandated that I accept those things that I cannot change. I am cognizant of what many take for granted, and I am passionate about life. I have always been a spiritual person. However, I am unearthing that the true testament of spirituality is the ability to connect with your inner self. It is in being present and patient on purpose. It is realizing the core relationship between mind and body. Therefore, as I pondered the title of my column, I wanted it to be a reflection of my entire journey.
Verily, my patient status is teaching me the discipline of patience. In the midst of being patient, I have developed a deeper understanding of who I am and what I am made of. I know that I will remain on this journey, and I am aware that I will continue to struggle with certain aspects of life. However, I do believe that if we delve into and adhere to our spirit, we can use patience and strength to overcome our greatest battles. We can be patients who are awakened.
Readers can subscribe to www.teresawrightjohnson.com.
***
Note: Multiple Sclerosis News Today is strictly a news and information website about the disease. It does not provide medical advice, diagnosis, or treatment. This content is not intended to be a substitute for professional medical advice, diagnosis, or treatment. Always seek the advice of your physician or other qualified health provider with any questions you may have regarding a medical condition. Never disregard professional medical advice or delay in seeking it because of something you have read on this website. The opinions expressed in this column are not those of Multiple Sclerosis News Today, or its parent company, BioNews Services, and are intended to spark discussion about issues pertaining to multiple sclerosis.