Affording Your MS … or Not, You're Likely Paying Either Way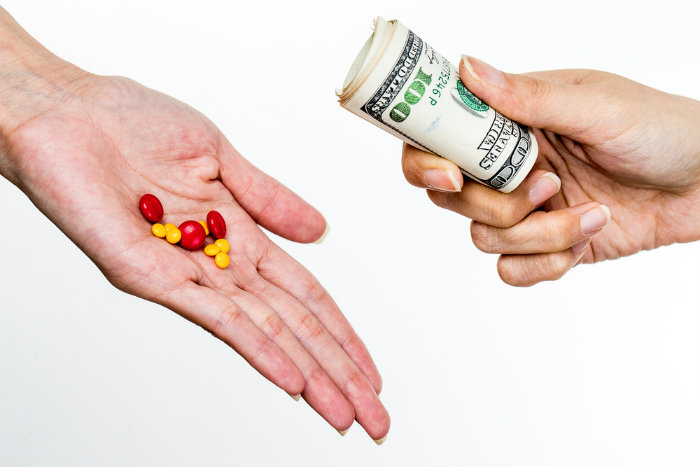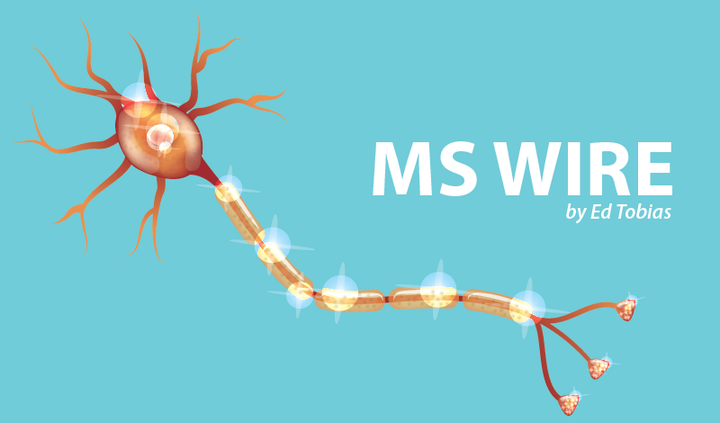 Have you been in this Catch-22?
You had great medical insurance when you were working. But, you're not working anymore. Your insurance now comes with a $6,000 deductible and it doesn't cover any medications. That $6,000 is about a fifth of your yearly income. You took early retirement because of your MS, but the pension you're getting puts you over the limit for Medicare in the United States. You can't get disability payments because you're old enough to get Social Security. But you're not yet old enough to get Medicare.
I recently read a post very similar to that on one of the social media sites I follow. Sad to say, that situation isn't unique. In fact, the day I read that post, the Kaiser Family Foundation released research showing that you might have a lot of trouble paying your medical bills, even if you're on Medicare. According to the KFF study, in 2013, more than 50 percent of the people who were on traditional Medicare (Parts A, B, and D) spent at least 14 percent of their total income on out-of-pocket healthcare costs. Twenty-five percent spent nearly 30 percent. Ten percent spent close to 60 percent of their income.
It would seem to me to be an understatement when the study authors write:
"With half of all Medicare beneficiaries living on annual per capita income of less than $26,200, out-of-pocket health care costs can pose a challenge, particularly for beneficiaries with modest incomes and those with significant medical needs."
Not surprisingly, it's worse if you're in poor health, if you're 85 or older, or if your income is less than $20,000.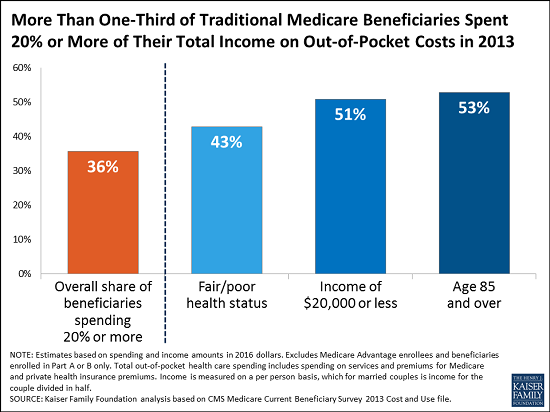 It's probably not going to get any better
The Kaiser analysis projects that, under current U.S. government policies, by 2030 the number of people spending 20 percent of their income on health care will rise from 36 to 42 percent. This is particularly important to understand as politicians talk of paying for income and corporate tax reductions by reducing spending on Medicaid, Medicare and Social Security.
There are some ways to ease the financial crush
The Multiple Sclerosis Society of America has programs to provide, at no cost, some simple things such as cooling vests and assistance equipment. And the MSAA recently added a biggie: assistance paying for some magnetic resonance imaging (MRI) exams.
In the United States, many drug companies have programs to provide their high-cost MS drugs to patients at a deep discount, or in some cases for free. The National Multiple Sclerosis Society has an excellent, drug-by-drug, list of programs on its website.
If your drug company isn't able to help with your copay, a foundation is a good place to turn. It takes patience and good timing to obtain help from these nonprofits, but it can be worth the effort. If you qualify for the help (there's still an income ceiling, but it's usually fairly high), a foundation will approve a monetary grant for you. The grant will cover your copays and be paid directly to the pharmacy that's providing your drugs for a specific amount of time — usually a year. A list of some foundations that are paying for MS drugs is found at the bottom of the National MS Society webpage that I mentioned earlier.
A couple of suggestions from MS patients, whom I found online, include:
If you have no insurance, see if your medical provider will give you a cash discount and/or make it possible for you to pay over time with no interest.
Ask your pharmacist about prices for prescription drugs using, and without using, insurance. Sometimes it's cheaper to pay cash. You can also look up prices on GoodRx. It also pays to check different pharmacies in your area.
Will Amazon impact the future of healthcare?
Details are scant, but Amazon has announced that it's joining with financial giants Berkshire Hathaway and J.P. Morgan to cut healthcare costs for their employees. Could this be the start of a healthcare revolution? Stay tuned.
You're invited to follow my personal blog at www.themswire.com.
***
Note: Multiple Sclerosis News Today is strictly a news and information website about the disease. It does not provide medical advice, diagnosis, or treatment. This content is not intended to be a substitute for professional medical advice, diagnosis, or treatment. Always seek the advice of your physician or other qualified health provider with any questions you may have regarding a medical condition. Never disregard professional medical advice or delay in seeking it because of something you have read on this website. The opinions expressed in this column are not those of Multiple Sclerosis News Today or its parent company, BioNews Services, and are intended to spark discussion about issues pertaining to multiple sclerosis.