Carded at Costco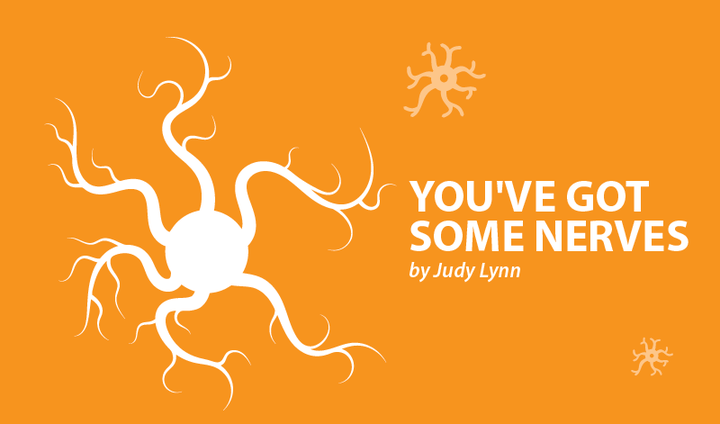 I was carded while at Costco with my son just before Christmas. Normally, I'm flattered when asked for ID, but this time was different. The request wasn't from the cashier as my vodka rolled by, snug between the peppermint cocoa and persimmons. No, the request came from a police officer.
As we loaded our bounty into the hatchback, a police car rolled up and parked behind my vehicle. Out hopped an officer, who pleasantly asked, "Does one of you have your card?" as he gesticulated toward the accessible parking sign in front of my car. "Oh," I replied. My son just stood there, strawberry Special K in hand, looking uncertain. I found myself nervous and stammering, despite his friendliness. It's not every day that I interact with a policeman.
My mind flipped back to an elderly gentleman with a cane who was getting into his SUV across from us when we pulled in. I saw him give me the stink eye as I hung my handicap placard on the rearview mirror, so I had smiled in a way that I hoped conveyed, "You see me, and I see you seeing me, and I'm smiling." Apparently, that did not send the "I'm one of you, I'm disabled, too" signal I intended.
I opened my wallet and pulled out my official "You're a Disabled Person" card from the state of Washington. I then spent what felt like a full minute trying to remove my driver's license from the little window pocket. My son finally reached over and did it for me, which I think proves some disability on my part. The officer handed them back, with a wink and a nod, and said, "You two have a Merry Christmas."
Feeling unsettled, my invisible disability and I sat in the car while my son finished loading the groceries. For 14 years, I have lived with a chronic, degenerative, neurological disease, but you wouldn't know it by looking at me. I drive with hand controls. My body has good days and other days. I don't always use my disabled placard, but when I need it, I use it. My son has been away at college and is not normally with me. I was berating myself for not thinking to have him drop me off and park further out. Then I was berating myself for berating myself. It was as though eagle-eyed SUV driver and the officer voiced my unwillingness to fully embrace the title of disabled.
A similar incident happened a couple of years ago on a busy work day when I missed lunch and, therefore, my lunchtime meds. On that crisp autumn day, I had been headed toward home when rush hour traffic and a migraine kicked in. I pulled into a busy strip mall to buy some food and water, take my meds, and sit in the car with my eyes closed until my headache (and traffic) eased. I parked in an accessible spot, sighed in relief, and was greeted by the sound of a marching band in full swing at a nearby school.
A pickup truck pulled into the accessible space next to me, and in my "hangry" state, I saw the driver give me the side-eye. To be fair, he had an eyepatch and may have just been looking around, not delivering judgment. I defensively thought, "Yeah, I see your eyepatch." And as quickly as I recognized my unintended pun, I followed it up with, "And I raise you a migraine and a #&*@#** marching band!" I felt bad before I made it into the store and hoped the man would follow me in so that I could try my ineffective secret signal on him, but he didn't.
A lesson for all of us: Disability is not always visible. There are hundreds of reasons a person may need a disabled placard, and it is no one's business. There but for the grace of God, carry on.
A lesson for me: Disability is not a competition. It does not matter if I have a scooter, walker, cane, or an eye-patch (all of which I shall bedazzle, should they come to pass). I am a person with a disability, no justification needed.
After a little reflection, I decided to be grateful that eagle-eyed SUV driver was looking out for the rest of us. But we really need to come up with a secret handshake or something.
***
Note: Multiple Sclerosis News Today is strictly a news and information website about the disease. It does not provide medical advice, diagnosis, or treatment. This content is not intended to be a substitute for professional medical advice, diagnosis, or treatment. Always seek the advice of your physician or other qualified health provider with any questions you may have regarding a medical condition. Never disregard professional medical advice or delay in seeking it because of something you have read on this website. The opinions expressed in this column are not those of Multiple Sclerosis News Today or its parent company, BioNews Services, and are intended to spark discussion about issues pertaining to multiple sclerosis.