Website Shows How Much Money Your Doctor Gets from Big Pharma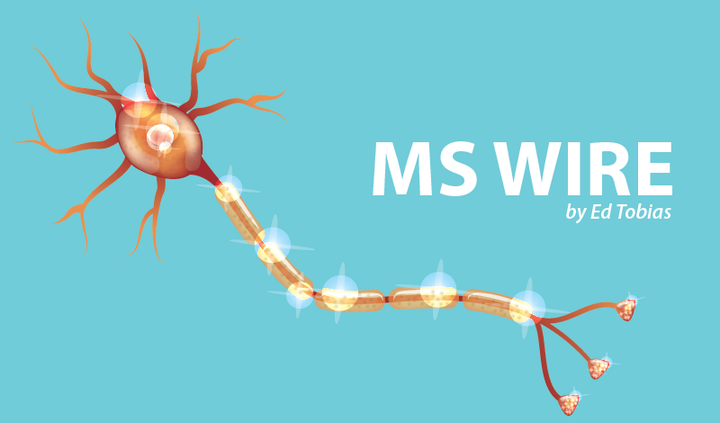 Biogen, a pharmaceutical company that markets half a dozen MS therapies, is accused of paying doctors to prescribe its medications.
A former Biogen employee claimed that the company paid fake consulting and speaking fees to doctors who prescribed Avonex (interferon beta-1a) and Tysabri (natalizumab) in 2009 and 2010. The company now faces a False Claims Act lawsuit in Massachusetts. Biogen also markets Fampyra (fampridine), Plegridy (peginterferon beta-1a), Tecfidera (dimethyl fumarate), and Zinbryta (daclizumab).
Law360 reports that Biogen has claimed that there's no evidence a payment was made to any specific doctor in exchange for prescribing one of its treatments, or that any doctor changed the medications they prescribed after being paid by Biogen to be a consultant or a speaker.
What do doctors make when they consult, research, etc.?
This got me wondering how much extra cash that doctors, particularly those who prescribe MS treatments, are legitimately receiving from pharma companies. So, I turned to the Centers for Medicare & Medicaid Service's Open Payments website.
Open Payments describes itself as "a national transparency program that collects and publishes information about financial relationships between the health care industry (i.e. drug and device companies) and providers (i.e. physicians and teaching hospitals)."
In other words, the website shines a spotlight on the checks that Big Pharma is writing to doctors for things such as research, consulting, and speaker fees. Also, meals, travel, and gifts. On the website, you'll find a tool that allows you to follow the money. You can search for physicians and teaching hospitals receiving payments, as well as the pharmaceutical companies that have made those payments. Presently, it covers 2013 to 2016, but data from 2017 is due to be uploaded on June 30.
Searching through Open Payments
According to the Open Payments database, about 631,000 doctors in the U.S. received a total of $2.06 billion in payments from 1,479 pharma companies in 2016. It shows that the mean general payment for doctors in a category that includes neurologists — allopathic and osteopathic physicians in psychiatry and neurology — was about $8,400. (The mean general payment for all physicians in the database was just under $3,300.) But some are making a LOT more. Here's an example of one neurologist who received a total of $424,690.70 from half a dozen pharmaceutical companies in 2016. According to the website, that doctor was paid an additional $600,000 in connection with research projects. (Screenshots via Open Payments.)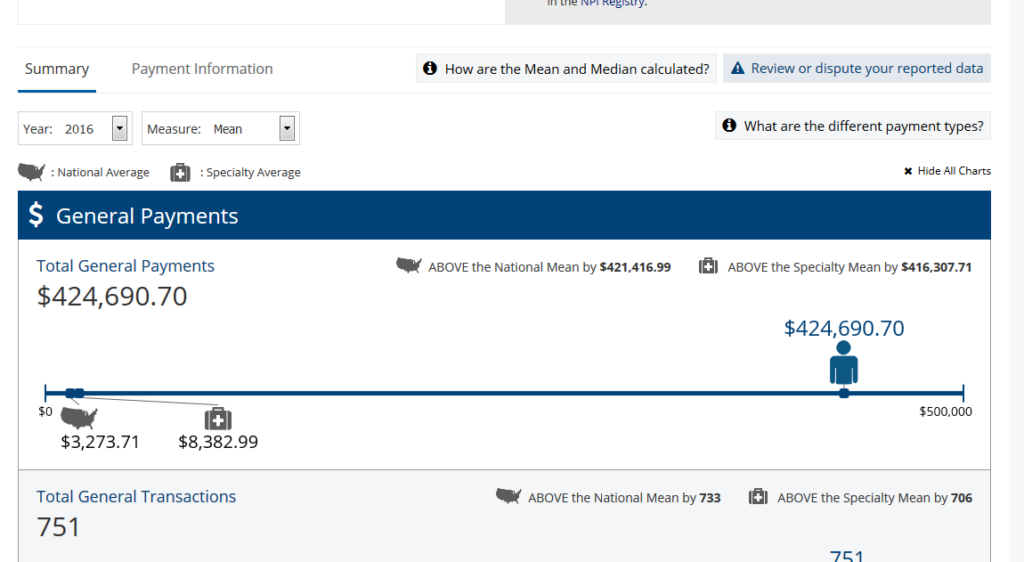 You can also click on a tab to see which pharmaceutical companies made those payments: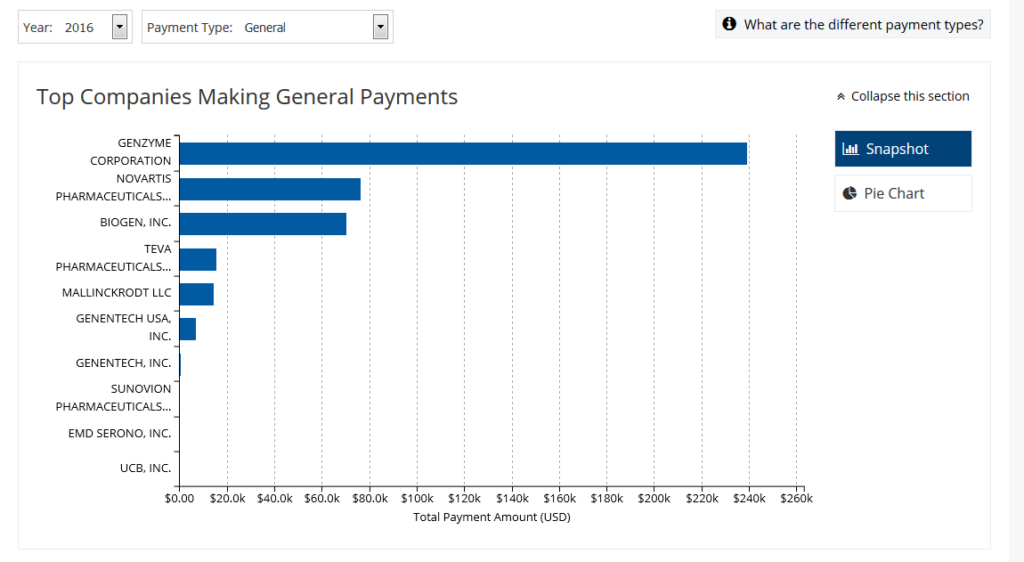 You can see the total amount of payments made by any pharmaceutical company to all doctors and research hospitals in one year. Yes, what you see below is over $49 million that Biogen paid in 2016.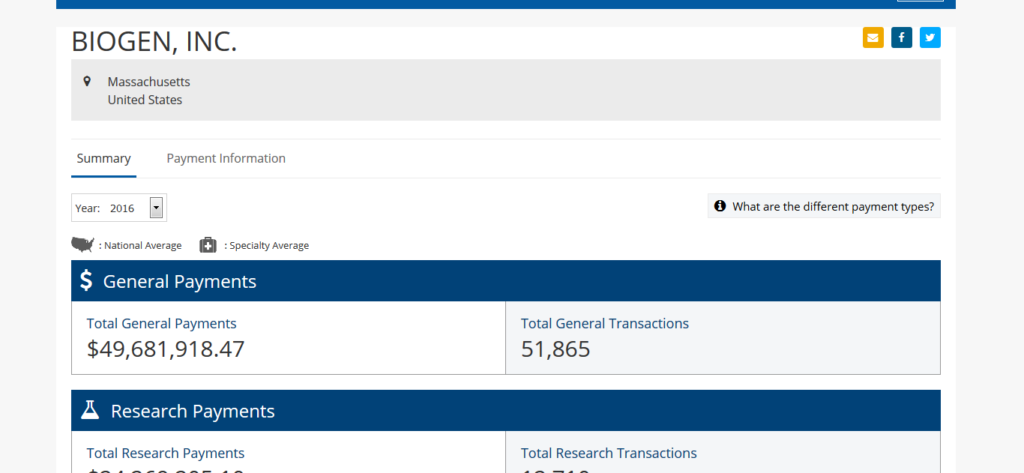 Quid pro quo?
I'm not suggesting that there is any connection between these payments and the treatments that doctors prescribe. I know a number of neurologists who have been on the medication lecture circuit for years. They speak to groups of MS patients who are considering using a particular treatment, or they teach other medical professionals about that medication. The physicians I know who do this are excellent, experienced specialists whose time is valuable and who are being compensated for it. Some of them have treated me. I have no evidence that any of the treatments they've prescribed for me were chosen as a quid pro quo for pharmaceutical company money. I was always offered a choice of treatments and, together, the doctor and I determined which would be the most effective treatment for me.
Full disclosure: I also received money from a Big Pharma company. I'm a Lemtrada (alemtuzumab) patient, and last year, I participated in a Lemtrada advisory board meeting. The medication's creator, Sanofi-Genzyme, paid me a small fee for my time and social media knowledge. My travel and lodging expenses were also covered.
Is this good or bad?
I know that some of you reading this are thinking this is all an example of how pharmaceutical companies are paying out billions to make tens of billions, and that the focus on medications is keeping us from moving more quickly toward approval of stem cell therapy in the U.S. or toward a cure for MS. And, maybe there's some truth to that.
On the other hand, I truly believe that the medications I've taken as an MS patient have eased my symptoms and slowed the progression of my disease. More recently, it appears that my progression may have been stopped and — maybe, maybe — even reversed.
So, is it reasonable for pharmaceutical companies to make payments, large or small, to help doctors with their research or to educate patients or other medical professionals? What do you think?
You're invited to follow my personal blog at www.themswire.com.
***
Note: Multiple Sclerosis News Today is strictly a news and information website about the disease. It does not provide medical advice, diagnosis, or treatment. This content is not intended to be a substitute for professional medical advice, diagnosis, or treatment. Always seek the advice of your physician or other qualified health provider with any questions you may have regarding a medical condition. Never disregard professional medical advice or delay in seeking it because of something you have read on this website. The opinions expressed in this column are not those of Multiple Sclerosis News Today or its parent company, BioNews Services, and are intended to spark discussion about issues pertaining to multiple sclerosis.