I Have MS and I'm Very Lucky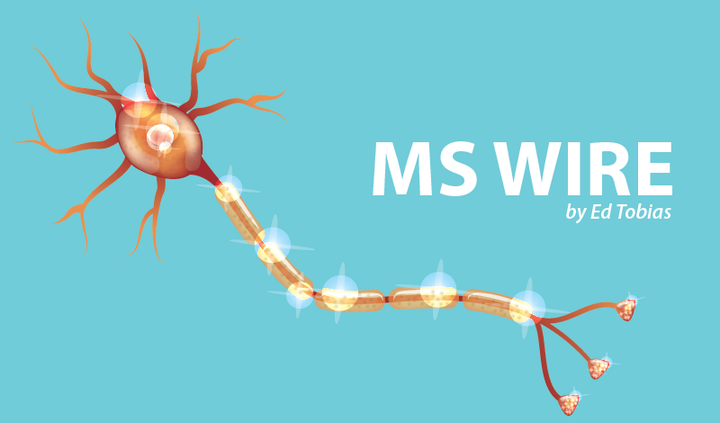 National Nurses Week was earlier this month. I'm a little late saying it, but, "Thank you, nurses." And doctors.
I'm really a lucky guy. Lucky to have had fabulous nurses. Lucky to have had a couple of top-notch neurologists.
My luck began in August 1980 with Dr. Stanley Cohan. Dr. Cohan, at that time, was a neurologist at Georgetown University Hospital in Washington, D.C. He diagnosed me, treated my symptoms, held my MS in check, and got me enrolled in the Phase 3 clinical trial of Avonex (interferon beta-1a) — one of the earliest of the disease-modifying therapies.
Thanks, Dr. Cohan.
When Dr. Cohan left Georgetown to move to Oregon, he left me in the hands of Dr. Heidi Crayton. That was in the late 1990s. I've been her patient since then, with the exception of several years when Dr. Crayton took time off from her patients to spend more time raising her three boys. Dr. Crayton and her office staff have seen me through Avonex and my needle fatigue, and then Tysabri (natalizumab).
Tysabri required careful monitoring because of the risk of contracting a brain disease called PML. Dr. Crayton "knew when to hold 'em … knew when to fold 'em." She reduced my Tysabri infusions from every four weeks to every six weeks when my John Cunningham virus (JCV) antibody, or titer level, rose to a concerning point. She also "knew when to walk away" from Tysabri and switch me to Aubagio (teriflunomide) when that titer level was too high for too long. Dr. Crayton has always had my confidence. That's probably due, at least in part, to her willingness to spend as much time with me as I needed during every office visit. So, when we decided together that my next disease-modifying therapy (DMT) would be Lemtrada (alemtuzumab), I wasn't as scared as many Lemtrada patients seem to be.
The icing on the cake is that this "doctor is in" — via email, web message, or telephone — whenever I need her.
Thanks, Dr. Crayton.
The nurses are just as important as the doctors
I don't think it's any secret that the nurses who work with our neurologists are easily as important to our care as the physicians. My two primary infusion nurses, Carrie and Kristin, are the ones who I trust to stick me with one jab. They're the ones who check my vitals and my IVs. They're on the alert for signs that something isn't right and they were even there to pick me up after an embarrassing, dizzy, low-blood-pressure issue in the office bathroom. (Carrie is even a Facebook friend.)
Thanks, Carrie and Kristin.
There are others who need my thanks
I can't forget about some others in my doctor's office. Debbie makes sure that all of the approvals are in order and my Medicare and secondary insurance are all in line before my treatment date. That lifts a big weight off my shoulders. And there's Laura, who can find a way to squeeze me in when I really need an unscheduled trip to the neuro. She's also the bright face that we patients see when we walk in the door and the bright voice we hear on the phone. She knows each patient and knowing who we are makes a big difference, at least to me, in how we're treated.
So, thanks to Debbie and Laura.
I wish others could be this lucky
I'm always reading on social media groups about patients who can't get an appointment to see their neurologist quickly, even when they're reporting some pretty scary symptoms. They can't even reach the doc on the phone. When they do see the neurologist, it's usually a short exam or consultation. And, as scary as it sounds, some of these docs seem totally out of the loop about the protocols for, and the potential problems associated with, some of our newer MS DMTs. On the business side, many patients also seem to have a heck of a time getting their doctor's offices to obtain timely prior authorization from insurance companies or to share their medical records with other medical offices.
I am, indeed, lucky to have had the quality of care that I've had for the nearly four decades that I've lived with MS, and the insurance to pay for it. It's time for me to say I'm grateful. It's also time to ask: What can we do to bring this level of care to so many who don't have it?
Let's continue this discussion on the MS Forums page. I also invite you to visit my personal blog at www.themswire.com.
Note: Multiple Sclerosis News Todayis strictly a news and information website about the disease. It does not provide medical advice, diagnosis, or treatment. This content is not intended to be a substitute for professional medical advice, diagnosis, or treatment. Always seek the advice of your physician or other qualified health provider with any questions you may have regarding a medical condition. Never disregard professional medical advice or delay in seeking it because of something you have read on this website. The opinions expressed in this column are not those of Multiple Sclerosis News Today or its parent company, BioNews Services, and are intended to spark discussion about issues pertaining to multiple sclerosis.