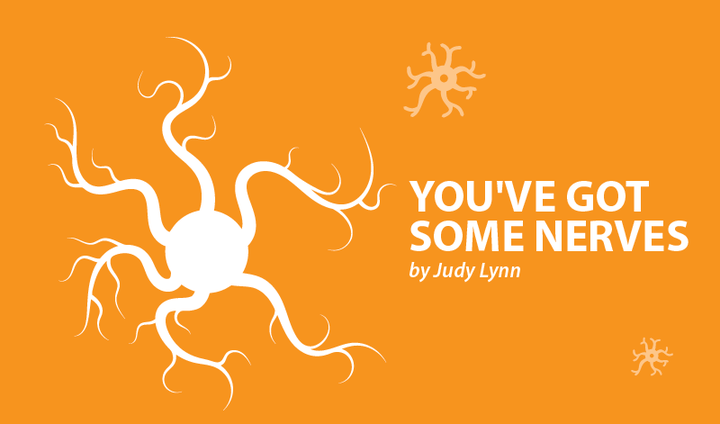 "I can come over and stab you, if Gramma can't do it," read the Facebook post from my oldest son.  "Aw … thanks, kiddo," I replied.
Some things seem more interesting when taken out of context!  Of course, most of you will realize that my son was offering to give me my weekly injection.  I had posted a lament that it was Sunday, "shot day" for me, and I just wasn't feeling it. Needle fatigue.
When first diagnosed with MS, I researched medications and chose an every-other-day, subcutaneous, self-injection. A nurse came to the house and taught my husband and I how to inject oranges.  Not so bad.  Then we learned how to poke that little needle into me. Not so good. I am not an orange.
A serendipitous moment (worthy of its own post) allowed me to power through my initial fear. My husband and I took turns. I knew that if I went more than a few days without giving myself a shot, then I probably wouldn't be able to do it again.  I am fiercely independent and wanted to know that I could do this myself.
A year later I was divorced, and for five years I gave myself subcutaneous injections. It became less difficult with the introduction of the auto-injector — I did not have to see the needle! Just hold the device against my leg and push the button.  Well, to be truthful — take a deep breath and exhale slowly … and … almost push the button. Roll my shoulders back to release some tension, take another deep breath, exhale slowly… and yes, push the button!
After several years of stable MS, my neurologist recommended a switch to the once-a-week intramuscular, to avoid injection site reactions that had become bothersome. Initially I went to my doctor's office every Friday and a nurse gave me my shot. I simply could not fathom putting that much larger needle into myself. An auto-injector was not an option for the intramuscular injection. However, by the end of the first year, my independent streak pushed me to overcome this fear.
Eight years later I still "stab" myself every Sunday. It was never easy, but about two years ago, it quite suddenly seemed impossible. It felt as though I had hit a wall, sometimes sitting in the bathroom for a half hour or longer trying to will myself to do it. My neurologist shared that this is common and it has a name: "needle fatigue." A web search turned up many useful articles and posts.
In "Get Control of Needle Fatigue," Julie Stachowiak writes, "… once I realized I was tired of it, I was suddenly really, really tired of it."  That's it, exactly. We go along poking ourselves with sharp objects, not liking it, crying a little sometimes, taking deep breaths … but we do it.  And then suddenly, we don't want to.  Seriously do NOT want to. We are OVER IT!  But MS is not over us … and so here are a few more tips to try, in addition to the ones in the linked articles.
We are sorry that this post was not useful for you!
Let us improve this post!
Tell us how we can improve this post?