MS Needle Fatigue: That Sudden, 'I Am Not an Orange' Feeling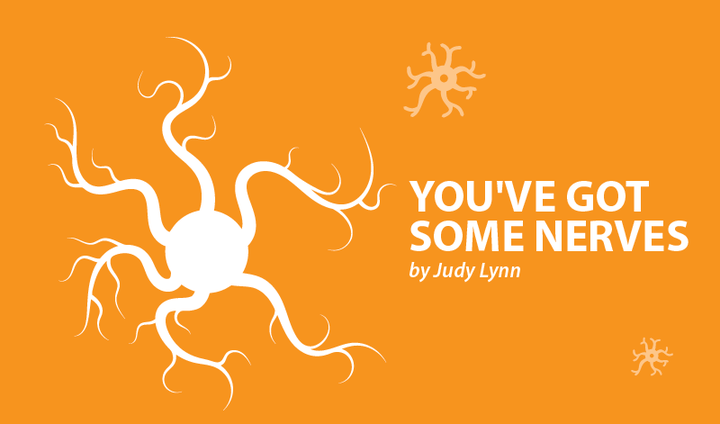 "I can come over and stab you, if Gramma can't do it," read the Facebook post from my oldest son.  "Aw … thanks, kiddo," I replied.
Some things seem more interesting when taken out of context!  Of course, most of you will realize that my son was offering to give me my weekly injection.  I had posted a lament that it was Sunday, "shot day" for me, and I just wasn't feeling it. Needle fatigue.
When first diagnosed with MS, I researched medications and chose an every-other-day, subcutaneous, self-injection. A nurse came to the house and taught my husband and I how to inject oranges.  Not so bad.  Then we learned how to poke that little needle into me. Not so good. I am not an orange.
A serendipitous moment (worthy of its own post) allowed me to power through my initial fear. My husband and I took turns. I knew that if I went more than a few days without giving myself a shot, then I probably wouldn't be able to do it again.  I am fiercely independent and wanted to know that I could do this myself.
A year later I was divorced, and for five years I gave myself subcutaneous injections. It became less difficult with the introduction of the auto-injector — I did not have to see the needle! Just hold the device against my leg and push the button.  Well, to be truthful — take a deep breath and exhale slowly … and … almost push the button. Roll my shoulders back to release some tension, take another deep breath, exhale slowly… and yes, push the button!
After several years of stable MS, my neurologist recommended a switch to the once-a-week intramuscular, to avoid injection site reactions that had become bothersome. Initially I went to my doctor's office every Friday and a nurse gave me my shot. I simply could not fathom putting that much larger needle into myself. An auto-injector was not an option for the intramuscular injection. However, by the end of the first year, my independent streak pushed me to overcome this fear.
Eight years later I still "stab" myself every Sunday. It was never easy, but about two years ago, it quite suddenly seemed impossible. It felt as though I had hit a wall, sometimes sitting in the bathroom for a half hour or longer trying to will myself to do it. My neurologist shared that this is common and it has a name: "needle fatigue." A web search turned up many useful articles and posts.
In "Get Control of Needle Fatigue," Julie Stachowiak writes, "… once I realized I was tired of it, I was suddenly really, really tired of it."  That's it, exactly. We go along poking ourselves with sharp objects, not liking it, crying a little sometimes, taking deep breaths … but we do it.  And then suddenly, we don't want to.  Seriously do NOT want to. We are OVER IT!  But MS is not over us … and so here are a few more tips to try, in addition to the ones in the linked articles.
Fighting needle fatigue
Distraction: Spend some time right before your injection, completely immersed in something good. While icing, you might read an entertaining magazine or a really good book (no depressing news or textbooks allowed).
Rewards: If you are brave enough to power through your needle fatigue, then by all means you deserve a reward!  Maybe it's more time with that good book and a cup of tea. Ice cream and Peppermint Patties motivate me, especially late at night!
Pinch Hitter: Needle fatigue is a real condition. Don't be afraid to give yourself a break and ask for help. Can someone else do your injections?  The MS nurse came back and taught my mother, sister, and my oldest son how to do my injections. I have never felt so loved … so many people willing to stab me!
Journal: Writing down your frustrations and fears may help.  Journaling might complement the suggestion of the other writers to talk to someone, a friend or a professional.
Humor: Laughter or even a quiet chuckle can relieve the tension and stress of needle fatigue. Sometimes, right before a shot, I murmur a line from "The Brave Little Toaster." The talking appliances (just go with it) have fallen over a waterfall and Vacuum inflates his bag to float but Radio doesn't recognize him, so he stabs him with his antennae and shouts, "Damn thee, thou great whale from the depths of hell, I stabbeth thee!"  I think it's a mix of how funny I thought this was for a children's movie, and the happy feeling that those memories give me.
Consider a Change: Just a few years ago, this option would not have been here. When I was diagnosed the only disease-modifying treatment options were injectables. Today, there are infusions and oral medication choices. Do your research and talk to your healthcare provider about trying something different.
Feeling really, really tired of injections may also mean that you are really, really tired of having MS. And that's OK. Whatever you are feeling is normal and needle fatigue is real. I want to do everything possible to keep exacerbations and progression at bay, so for me, that means continuing my injectable disease-modifying therapy. I have a bag of chocolates in the freezer, three phone numbers on speed dial, and a Marianne Williamson book at the ready! We got this!
Note: Multiple Sclerosis News Today is strictly a news and information website about the disease. It does not provide medical advice, diagnosis, or treatment. This content is not intended to be a substitute for professional medical advice, diagnosis, or treatment. Always seek the advice of your physician or other qualified health provider with any questions you may have regarding a medical condition. Never disregard professional medical advice or delay in seeking it because of something you have read on this website. The opinions expressed in this column are not those of Multiple Sclerosis News Today, or its parent company, BioNews Services, and are intended to spark discussion about issues pertaining to multiple sclerosis.