Vumerity Approved for RRMS in European Union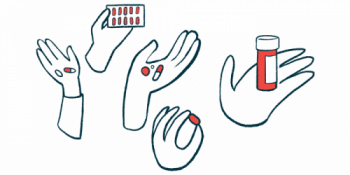 The oral medication Vumerity (diroximel fumarate) has been approved by the European Commission to treat adults with relapsing-remitting multiple sclerosis (RRMS).
"This approval is a significant step forward in improving treatment adherence for people living with relapsing MS, which can make a meaningful difference on treatment outcomes impacting their daily lives," Maha Radhakrishnan, MD, chief medical officer at Biogen, which markets Vumerity, said in a press release.
"The authorization of VUMERITY in the EU brings people with MS a new oral treatment option to meet their individual preferences and needs, with well-established efficacy and a positive GI [gastrointestinal] tolerability profile that continues to be evaluated in the real-world setting," Radhakrishnan added.
Originally developed by Alkermes in collaboration with Biogen, Vumerity contains diroximel fumarate, an inactive molecule (prodrug) that gets converted into its active form, monomethyl fumarate (MMF), once inside the body.
MMF is thought to reduce inflammation that causes nervous system damage in MS. It also is the active agent in Tecfidera (dimethyl fumarate), an older MS treatment developed by Biogen that was first approved in the EU in 2014.
Pharmacological studies have suggested that both Vumerity and Tecfidera deliver similar amounts of MMF to the body, but data from a Biogen-sponsored Phase 3 clinical trial (NCT03093324) showed that patients on Vumerity experienced fewer and less severe gastrointestinal side effects, which was tied to improved quality of life.
The EVOLVE-MS-2 study enrolled 506 people with RRMS who were treated with either Tecfidera or Vumerity for five weeks. Fewer patients discontinued Vumerity than Tecfidera (1.6% vs. 6%) during the trial, and this difference was due mostly to Vumerity's improved gastrointestinal tolerability.
"This medication allows for MS patients in the EU to be treated without having to think about dietary restrictions or when to take a dose in relation to mealtimes which, when treating a chronic disease, may provide patients with additional flexibility in their daily lives," said Simon Faissner, MD, PhD, a neurology professor at Ruhr-University Bochum in Germany.
"The approval of VUMERITY provides a new oral treatment option with low gastrointestinal discontinuation rates that may help patients to start and adhere to treatment," Faissner said.
Vumerity was approved for RRMS in the U.S. in 2019. It also has been approved in Great Britain and Switzerland.
Since the medication's launch in the U.S., real-world data have shown consistently positive safety results, according to Biogen.
Additionally, interim data from EVOLVE-MS-1 (NCT02634307), an ongoing open-label Phase 3 clinical trial that aims to study Vumerity's long-term safety, tolerability, and effectiveness over nearly two years, have shown the medication was generally well-tolerated, reduced relapse rates by more than 80%, and prevented confirmed disability progression in 90.3% of patients.