Stem Cell Transplant in MS: Patients Support, but Neurologists Hesitant
Survey finds transplant patients back treatment despite high costs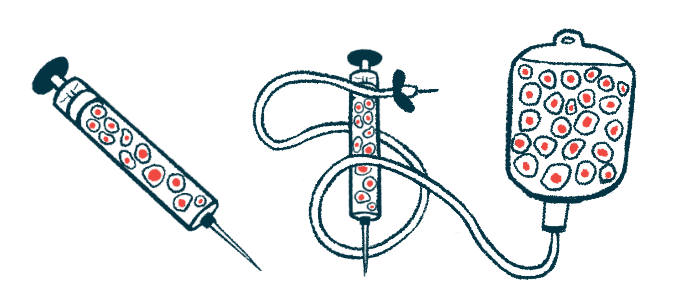 People who underwent a hematopoietic stem cell transplant (HSCT), many of them patients with multiple sclerosis (MS), were supportive of the treatment despite its high costs — and hesitancy and opposition from their neurologists — a survey study showed.
Most surveyed HSCT recipients — about 85% — believed their symptoms were better controlled after the stem cell transplant, and those with MS saw an overall reduction in disability.
However, more than half of the transplant recipients' neurologists did not support the procedure, and more than 30% did not continue patient care post-treatment, the survey found.
"Our findings indicate that patients are prepared to travel and invest considerable amounts of time and money in HSCT," the researchers wrote, adding that their study "provides stimulus for large randomized controlled trials" into the use of the experimental treatment.
The study, "A global online study of haematopoietic stem cell transplantation in multiple sclerosis and other neurodegenerative disorders," was published in Chronic Diseases and Translational Medicine.
HSCT is being explored as a way to help "reset" the body's dysfunctional immune system in various disease states. The approach takes advantage of the capacity for blood stem cells to self-renew and produce virtually any blood cell type in the body.
Basically, the treatment involves collecting blood stem cells from a patient and then wiping out the person's immune system using chemotherapy and/or radiation. The blood stem cells are then transplanted back into the patient so they can repopulate the immune system with healthy cells.
Surveying transplant recipients
Stem cell-based therapies are gaining traction for the treatment of MS and other immune conditions, but many clinicians do not support the procedure.
HSCT is not approved for MS in the U.S., where it is considered an experimental treatment, but the procedure is supported by the National MS Society for patients with very active disease who haven't responded well to other disease-modifying treatments.
The number of HSCTs performed is increasing every year, the researchers noted. While some evidence suggests that it can reduce disability and relapse rates in MS patients, concerns about the true efficacy of the procedure — especially given its high cost and potential risks — remain.
Now, a team of researchers in Australia set out to better understand the use of HSCT around the world, creating a survey aimed at people who had undergone such a transplant.
The internet-based survey was administered via Facebook and included 21 questions designed to understand the demographics of patients undergoing HSCT, treatment protocols, and the degree of treatment success.
Overall, 223 survey respondents underwent HSCT, most of whom were female (73.5%) and with a household income of more than $50,000 (78.9%). About two-thirds were from Australia or the U.S.; the remaining participants were from Western Europe, Canada, and South Africa.
A majority of participants (94.6%) had MS, and one person had clinically isolated syndrome (CIS). The other respondents had chronic inflammatory demyelinating polyneuropathy, Stiff Person's syndrome, scleroderma, polyneuropathy, organomegaly, endocrinopathy, myeloma protein syndrome, or neuromyelitis optica spectrum disorder.
Most had their HSCT treatment in Russia (38.7%) and Western Europe (26.7%), with the remaining having been treated in Australia (5%), India (4.5%), and Canada (0.5%).
The treatment costs ranged from less than $15,000 to more than $150,000, with almost half of patients spending somewhere between $50,000 and $75,000. Additional costs, including travel, accommodation, and meals, totaled an average of $13,800 per patient.
More than half of the patients' neurologists (54.5%) did not support them seeking HSCT treatment. But 65.5% of patients received care from the same neurologist after the procedure.
After treatment, patients saw five types of medical specialists — neurologists, hematologists, general practitioners, rheumatologists, and physiotherapists. A total of 83.3% of patients were satisfied with their post-transplant care.
Most people who had HSCT (85.5%) either agreed or strongly agreed that the treatment was successful in managing disease symptoms, with symptom improvements seen from immediately to a few years after the procedure. The percentage of participants who would recommend the treatment to other people was 95.4%.
For the 197 MS patients who underwent a stem cell transplant, scores on the Expanded Disability Status Scale (EDSS) — a measure of disease progression — were significantly reduced after HSCT. Those scores dropped by an average of 1.2 points, reflecting an overall lessening in disability with the transplant.
In total, 130 patients saw EDSS improvements, 50 experienced no change, and 17 patients had an EDSS worsening.
Overall, the findings show that "patients are overwhelmingly supportive of the treatment despite the costs," but that "HSCT is still facing opposition from neurologists and other specialists, some of whom refuse to treat their patients following treatment," the team wrote.
"Greater research is needed in this area to elucidate the effectiveness and timing to establish it as a proven therapy," they added.