Iron Rim Lesions in Brain Linked to a More Severe Disease Course
Iron-sensitive MRI may be an additional tool for monitoring disease progression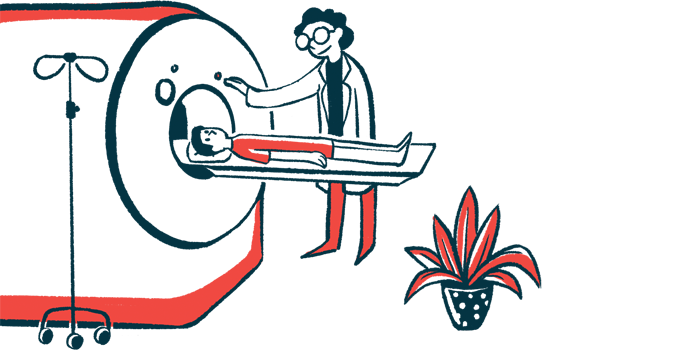 The presence of iron rim lesions, which are regions of chronic inflammation seen on MRI scans, may be linked to a more severe disease course in people with multiple sclerosis (MS), according to a recent study.
The findings suggest the presence and number of iron rim lesions could serve "as an imaging biomarker for disease severity, which could be easily implemented in clinical practice," researchers wrote.
The study, "Longitudinal clinical study of patients with iron rim lesions in multiple sclerosis," was published in the Multiple Sclerosis Journal.
MS occurs when the immune system mistakenly attacks myelin, a fatty substance that sheathes nerve fibers to accelerate neuronal communications. The resulting nerve damage, which can be visualized as lesions or areas of abnormal tissue in the nervous system, ultimately causes the symptoms of MS.
Making a diagnosis of MS can be difficult because there is no single test to diagnose the disease. Getting a diagnosis involves undergoing a complete health history and neurological examination, and doctors may order an MRI scan to look for lesions in the brain and spinal cord.
What are iron rim lesions?
Iron rim lesions are a particular type of lesion with chronic inflammation. They are characterized by something that looks like a "rim" or "ring" around the lesion on MRI scans, due to the accumulation of iron-laden inflammatory immune cells called microglia.
These lesions have been linked to a more severe disease course in MS, but studies were mostly small and short, and did not examine if the number of iron rim lesions also had some prognostic value.
In the study, a team of researchers in the U.K. examined the MRI scans from 91 patients (53 women and 38 men), mean age 46 years, who were diagnosed with different types of MS: 34 patients with relapsing-remitting MS (RRMS), 18 with primary progressive MS, and 17 with secondary progressive MS (SPMS).
The remaining 22 had clinically isolated syndrome (CIS), a first episode of neurological symptoms that may represent the onset of MS, and 18 of them progressed to overt MS during follow-up.
A total of 1,468 white matter lesions were identified on the MRI scans, including 132 iron rim lesions (9% of total lesions) found in 42 participants. There were 54% patients with no iron rim lesions, 30% with 1–3 lesions, and 16% had four or more rim lesions.
The iron rim lesions were present despite prior treatment with disease-modifying therapies, and treated patients were 90% more likely than untreated patients to have iron rim lesions, likely reflecting more severe disease in the treatment group.
Regarding disease type, people with SPMS had more iron rim lesions than patients with other types of MS, and those with RRMS who had iron rim lesions were 60% more likely to progress to SPMS.
At the start of the study, scores on the Expanded Disability Status Scale (EDSS), a measure of disease severity, were higher for patients with iron rim lesions than for those without (average of 4 vs. 3 points). The mean age-related Multiple Sclerosis Score (ARMSS), which adjusts EDSS scores based on age, was also higher for patients with iron rim lesions (6.7 vs. 5).
The number of iron rim lesions correlated with the ARMSS both at the start of the study and after 12 years of follow-up. This generally means that people with more iron rim lesions also have a greater disability progression.
In particular, the presence of four or more iron rim lesions predicted disease progression with a specificity (true negative rate) of 95%, although sensitivity, or the true positive rate, was low (12%).
The findings indicate that "iron-sensitive MRI may become an additional tool for monitoring and predicting disease progression," the researchers concluded.
However, scoring iron rims on MRI "is subjective and requires clear guidelines on manual assessment or automatic algorithms before these findings can be translated to clinical practice," they added.