MS and the Art of Pretending – Beyond the Smile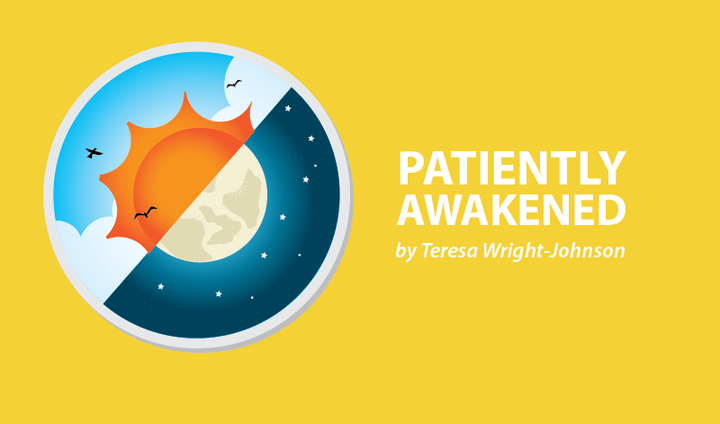 This photo was taken more than a year ago and I remember it as if it were yesterday. There was so much going on behind the smile captured in this picture.
Smoky Robinson serenaded about "the tears of a clown." I definitely played the role of the clown that day. Smiling on the outside, yet crying profusely on the inside. It was a rough day. I was almost one year into my diagnosis and the ache in my heart was immense. I was frightened, angry, sad and in physical pain. I was having a really rough time and no one, other than my husband, was conscious of that fact.
We had plans to attend a concert later that evening. The time arrived and I was picture perfect. My hair and makeup were to my liking. I looked into the mirror, gave myself a nod of approval, grabbed my purse and we were off for the evening. I really enjoyed the show and needed the time out. Unfortunately, neither my pain nor my fear would cease. I remember thinking that I did not want to ruin our night so I counseled myself and prayed to God to just help me get through the next few hours. My emotions went high, low, round and round. It felt as though I was riding on a carousel. Obviously, I made it through that night. — and many others just like it.
Looking at this photo saddens me. I stare into my eyes and the message is clearly visible. My pain is palpable. My eyes are telling my truth. I have always been sensitive, emotional and very attuned to my feelings. I believe this to be my greatest strength. My composition allows me to look at people beyond face value. I have become an expert at reading eyes. This photo recalls every emotion encountered on that particular day. I want to reach out to the woman that is me and embrace her. I want to say to her that the unrest she feels is not her life sentence. I want to remind her of her strength, her faith and the calling on her life. I want to tell her that she is a survivor who will rise against all affliction. I want to remind the woman she has been chosen by God to walk by faith and live in truth. I want her to remember that from birth her parents spoke life, abundance and purpose into her spirit. I want to console her. I want to console me.
Eyes tell the truth behind the smile
Multiple sclerosis, heart disease and so many other conditions are called "invisible illnesses." I know all too well the reasons why. There are so many symptoms that are imperceptible to the human eye. Many of us become "masters" of charades subconsciously hiding behind our smiles. We pretend all is well when we are ailing. Many of us know that if we allow ourselves to react to every emotion, ache or pain, we are stunting ourselves from moving forward. The only way to combat MS, or any chronic illness for that matter, is to fight it. We cannot submit to the illness.
The gist of this column is twofold. First, I am reaching out to all of my fellow warriors and survivors who bravely weather the tides of multiple sclerosis and chronic illness. I want you to know that I see you,  admire your strength and acknowledge your pain. I see beyond your smile. I understand there are some days we have to smile to keep from crying. You are courageous. I am saying to you, and to the me in this photo, that although we don't understand this course of life, it is well with our souls. We must trust in the creator and look to the hills for help.
Secondly, I am reaching out to all of those who love someone who has a chronic illness. Your love and support are the greatest gifts you can offer. Please know we don't take it for granted. You will never completely understand this journey and there is so much that is beyond our explanation. We rely on your strength more often than you know. My plea is for you to learn to see beyond the smile. The eyes will always reveal the truth. Look into the eyes of your loved one, friend or acquaintance. Proffer a word of encouragement, a smile or a hug.
"From your eyes I can see the depths of your soul. They tell me the secrets that you hold. And although you have learned to smile and pretend. I will always see the truth because I am your friend." — Teresa Wright-Johnson