Lifting a Toast to Andrew Barclay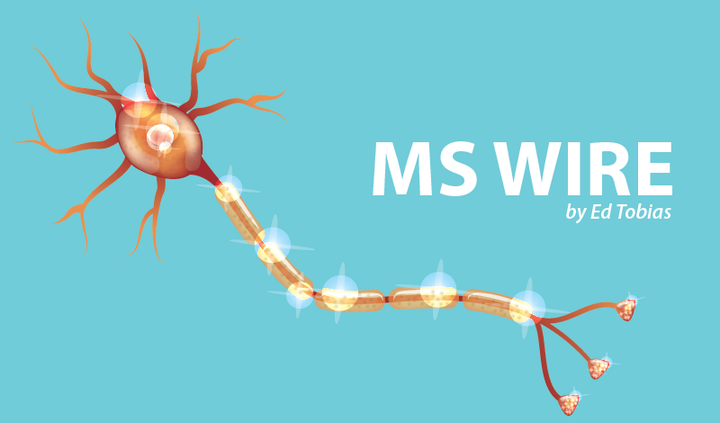 I don't want to write about Andrew Barclay. But I have to. Because Andrew Barclay could be you or me.
Barclay died in early December. He was a former civil servant in the U.K. and a grandfather. He turned 65 on his last birthday. And, Andrew Barclay had multiple sclerosis.
Barclay was diagnosed in 1992 with relapsing-remitting MS. Three years ago the disease moved to secondary-progressive and Barclay moved to a wheelchair. He could still shower and go out to the pub with his wife. On the other hand, he told the British newspaper The Daily Mirror, "I can no longer walk. I have to be helped out of bed and dressed by my wife. If I were to stand up I'd just shake and fall over."
There were other problems as well, such as incontinence, severe tremors and extreme fatigue. But worse, he told the newspaper, was that he'd become someone he didn't want to be. "I can't even lift up my granddaughters and whirl them through the air like a grandpa should. … I want to express the love I feel for them, but instead I'm grumpy, telling them off. Not because they are naughty, but because of the way I physically feel," he said.
So, a little more than a year ago Andrew Barclay decided it was time to die. Because assisted dying isn't allowed under British law, Barclay had to travel to Switzerland and pay an organization 10,000 pounds to grant his wish. Dignitas, where Barclay swallowed a lethal mixture of prescription drugs, is a not-for-profit death-with-dignity association. In addition to providing counseling, suicide prevention, and advanced directive legal planning, its website states "In case of an illness which will lead inevitably to death, unendurable pain or an unendurable disability, Dignitas offers its members the possibility of an accompanied suicide."
Accompanied suicide was Andrew Barclay's choice, and for more than 14 months leading up to his death Barclay allowed a writer from the Mirror to report on his journey. The result is a fascinating story, which I hope you'll click and read. I'm sure Andrew Barclay would like that.
Measures that would have revised the U.K.'s assisted dying law have failed in parliament at least three times since 2006. Barclay hoped his story might generate discussion, and eventually reform, of that law.
Each of us with MS may one day face the decision Andrew Barclay made. Each of us should be thinking about this possibility and discussing it with our families. That's why I had to write about Andrew Barclay.
Note: Multiple Sclerosis News Today is strictly a news and information website about the disease. It does not provide medical advice, diagnosis, or treatment. This content is not intended to be a substitute for professional medical advice, diagnosis, or treatment. Always seek the advice of your physician or other qualified health provider with any questions you may have regarding a medical condition. Never disregard professional medical advice or delay in seeking it because of something you have read on this website. The opinions expressed in this column are not those of Multiple Sclerosis News Today, or its parent company, BioNews Services, and are intended to spark discussion about issues pertaining to multiple sclerosis.