My Lemtrada Journey: At 9 Months, a Cane Tells a Tale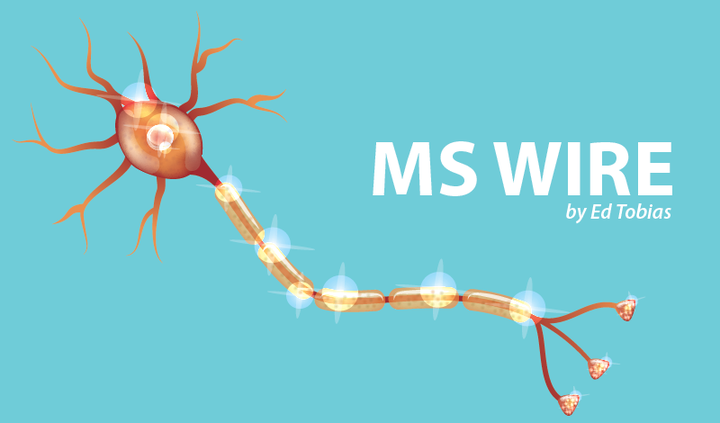 Back in May, when I updated everyone about my Lemtrada treatment at six months post-infusion, I began with a question my wife asked:
"Do you think you're walking better?"
And, I thought I was. Maybe. Just a little.
I was walking a bit more smoothly, my left foot was lifting off the floor a bit better, and I was mentally sharper. But, I still couldn't shake a pain that I'd developed in my hips and thighs back in March. Sometimes the pain was sharp and, as I wrote then, I also was stiffer than ever in the morning.
An MRI of my brain at six months showed no new active or growing lesions. This was great, of course, but my brain scan has been stable for many, many years. It's lesions on my cervical and lumbar spine that are giving me mobility problems. On the other hand, an exam by my neurologist confirmed what my wife Laura had detected: I was walking a bit better. The doctor and I decided I'd try some physical therapy for my stiffness and the hip pain and see what happened. I did that for a few months until it was warm enough to swim and then I traded the PT for regular swimming.
Since then, I've continued to follow the roller coaster life of many MS patients. Some days are better than others. Today, however, a new sign of improvement appeared, though I didn't realize it at first.
I've been using two canes to help me walk for more than a year. But today, I found myself leaving one cane  somewhere else in the apartment. I wouldn't realize that I'd left the cane behind until I started to get up from wherever I was sitting and could find only one stick. Once again it was my wife, the retired physical therapist, who put this into a little perspective for me.
"I had a lot of patients who used walkers," Laura told me, "and they'd ask me when they could stop using them. I told them: You'll know when you get up, one day, and start to walk without realizing the walker is on the other side of the room."
I guess that's what happened to me today. And, like the last time I wrote about my Lemtrada journey, I guess I'm doing better. At least Laura thinks I am. And another thing: My hip pain is almost gone!
You're invited to follow my personal blog at: www.themswire.com
***
Note: Multiple Sclerosis News Today is strictly a news and information website about the disease. It does not provide medical advice, diagnosis, or treatment. This content is not intended to be a substitute for professional medical advice, diagnosis, or treatment. Always seek the advice of your physician or other qualified health provider with any questions you may have regarding a medical condition. Never disregard professional medical advice or delay in seeking it because of something you have read on this website. The opinions expressed in this column are not those of Multiple Sclerosis News Today, or its parent company, BioNews Services, and are intended to spark discussion about issues pertaining to multiple sclerosis.