Free Your Fascia!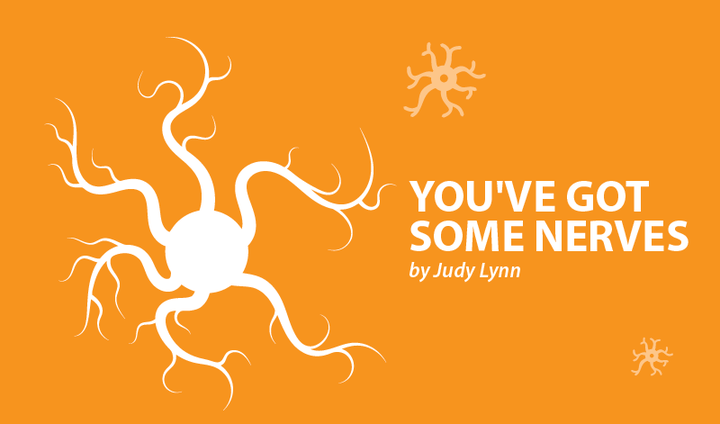 One of the most frustrating aspects of my MS is a frequent feeling of tightness and pain. The sensations may be in my arms, legs, or even in the trunk of my body in the form of the "MS hug." Gabapentin helps to keep the pain at a tolerable level, but it's rarely entirely absent. I describe the tightness as a feeling of thick rubber bands pulling between various parts of my body. Discussions with my massage therapist led me to suspect that some of this pain may be because of tight fascia, rather than muscles.
Dr. Christiane Northrup explains that fascia is "made up of densely packed collagen fibers that wrap around each of your internal organs and connect them to your muscles and bones. It is responsible for stabilizing your entire body and giving you your human form." It is often compared to a cobweb holding your organs, ligaments, and muscles in place.
Fascia can tighten and form adhesions to muscles or ligaments. When you move, the fascia may squeeze nerves and vessels, creating pain or discomfort. During my massage therapy, I learned that some of my discomfort was referred pain. This means that pain is felt at a site other than the place of injury. For example, the massage therapist may apply pressure to my trapezoid and I feel a pain in my wrist. Referred pain is complicated and generally thought of as the body misinterpreting where pain signals are coming from. If we think about the notion of fascia as a web, it is easy to visualize how pressing on one part of a web may cause other parts to stretch, pull or twist. If there are areas where the fascia is stuck, then the tug on the fascia around my shoulder may cause an adhesion to squeeze or irritate nerves in my wrist.
What can you do to keep your fascia flexible?
In "A Body Part You Never Knew You Had Could Be Making You Miserable," by Corrie Pikul, experts give several suggestions:
Hydrate. This helps keep the tissue lubricated and pliable.
Move frequently. Don't sit in one place too long as this can cause fascia and muscles to get stuck in one position.
Stretch gently. Try stretching your arms and legs out and gently rolling from side to side before you get out of bed in the morning.
Use a foam roller. If you haven't used one of these before, a physical therapist, massage therapist, or physiatrist can help you learn how to use it correctly. Fair warning: These are definitely a no-pain, no-gain endeavor.
Warm up before you exercise. Do some range of motion or dynamic stretching, such as arm swings and shoulder rolls before you begin.
Try massage. Ask your practitioner to work on releasing your fascia. Rolfing is one type of massage focused on fascia and connective tissue.
Check out the Fasciablaster. This is relatively new on the market and costs around $90.
I put the Fasciablaster on my Christmas list. The price may seem steep at first glance, but it is no more than the cost of a 90-minute massage. My health insurance covers massage for acute injury, but does not cover for chronic conditions like MS despite evidence of pain relief. There appears to be surprisingly little in the medical literature specific to MS and fascia. I'm curious about the connections. Does the MS hug have anything to do with fascia? Are people with MS prone to more constricted fascia, and if so, why? Do any medications or supplements help? Are patients being prescribed medications like baclofen, when the source of tightness is fascia rather than muscle?
I have high hopes that the "blaster" will let me stretch out the time between massage visits. My plan B is to bravely try Rolfing. Perhaps as my web is straightened out, it can pull it a little more from top to bottom, so that I gain 2 inches in height and lose 2 around the middle! In the meantime, let me know if you've had any luck relieving myofascial pain.
***
Note: Multiple Sclerosis News Today is strictly a news and information website about the disease. It does not provide medical advice, diagnosis, or treatment. This content is not intended to be a substitute for professional medical advice, diagnosis, or treatment. Always seek the advice of your physician or other qualified health provider with any questions you may have regarding a medical condition. Never disregard professional medical advice or delay in seeking it because of something you have read on this website. The opinions expressed in this column are not those of Multiple Sclerosis News Today or its parent company, BioNews Services, and are intended to spark discussion about issues pertaining to multiple sclerosis.