When You've Gotta Go, but There's No Place to Do It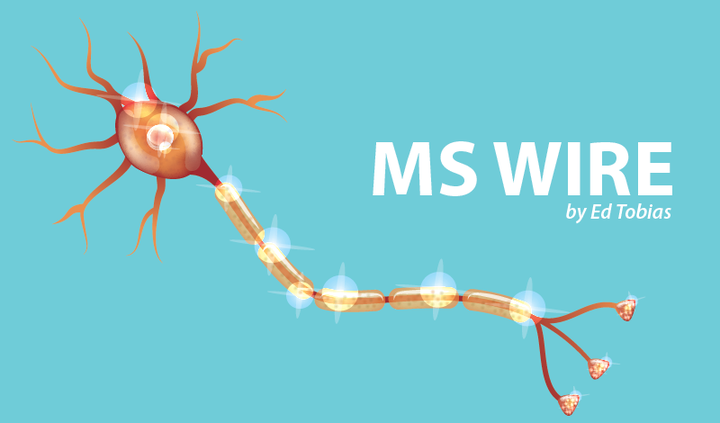 We've all been there. That "uh-oh" feeling hits and you know you'll be in trouble if you can't find a restroom, fast.
You hope the clerk in the store with the "Restrooms for Customers Only" sign will make an exception if you tell her it's about to run down your leg. There's got to be a better way than that. And maybe there is.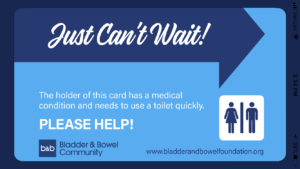 In the United Kingdom, where a friend tells me "they're closing all the public loos down," they have "Just Can't Wait" cards. These cards allow you to alert a store clerk that you really just can't wait. On the front it reads: "The holder of this card has a medical condition and needs to use a toilet quickly. Please help." The back of the card displays the help-line number for the U.K.'s Bladder & Bowel Community, which distributes the cards.
There's also a 'Just Can't Wait' app
If you just can't wait for the card to come by mail, you can download the "Just Can't Wait" app from Apple's app store (it's only available for iOS). It has the same information that is found on the card. It also contains a loo locator, which works off your smartphone's GPS. I suspect that feature only works in the U.K., because I couldn't use it to locate a loo anywhere in the U.S. The app was also very flaky when I tried it, shutting down several times after I'd opened it. So, I'd suggest requesting the card from the group, if you're eligible, rather than downloading the app.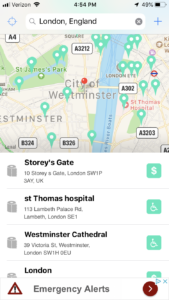 There is, however, an app that will find restrooms in the U.K., the U.S., and elsewhere. It's called Flush — you can't make this stuff up. When I opened it, Flush immediately used my GPS to locate several public restrooms near me. When I typed London, England, into the search window, it brought up dozens of spots and displayed an icon indicating which are accessible and which require payment.
At least a dozen similar apps are found in the app store. Just search for "public restroom" and you'll find apps like "SitOrSquat," which has an association with Charmin toilet paper. You'll also find "Getloo," and my favorite name, "WeeWeeFree."
The card helps
The "Just Can't Wait" card, my friend tells me, was a blessing for her elderly mother: "When you show the card, the shopkeepers, in theory, will let you use their loos. This is often the staff loo, but it can make such a difference. My elderly mum got to a point where she didn't want to go anywhere different for fear of wetting herself, but this gave her just that little bit more confidence to go to new places."
Unfortunately, when I tried to apply for this card online, I discovered that it's only available in the U.K. A quick Google search failed to locate anything similar. So, I guess I'd better try to get that "Just Can't Wait" app to work. Meanwhile, if you know of a similar card that's available outside the U.K., please let me know in a comment.
You're invited to follow my personal blog at www.themswire.com.
***
Note: Multiple Sclerosis News Today is strictly a news and information website about the disease. It does not provide medical advice, diagnosis, or treatment. This content is not intended to be a substitute for professional medical advice, diagnosis, or treatment. Always seek the advice of your physician or other qualified health provider with any questions you may have regarding a medical condition. Never disregard professional medical advice or delay in seeking it because of something you have read on this website. The opinions expressed in this column are not those of Multiple Sclerosis News Today or its parent company, BioNews Services, and are intended to spark discussion about issues pertaining to multiple sclerosis.