An MS, Migraine, Marching Band Kind of Day!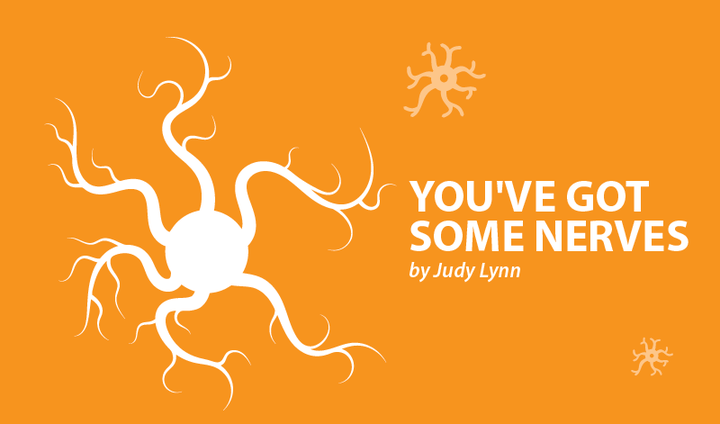 I work full time in public health, and some days are spent 'out in the field' visiting clients in their homes. It requires careful planning to ensure that I have adequate water, food, medications, and layers of clothing for homes that are too hot or too cold.  I research the routes ahead of time, so that I know exactly where I can find the coffee shops (aka, public restrooms).
One Friday morning I was running late and forgot to grab my lunch. I was delayed unexpectedly before leaving the office and my day continued to run behind, with no time to stop and pick something up.  I always have protein bars and nuts in the car, and thankfully even had an apple this time. However, because I did not actually stop for lunch, I forgot to take my medications. My body always reminds me about two hours later. First it whispers with some parathesia in my feet. If I don't hear that, it may say, "Hey, You! Take your meds!" in the form of trigeminal nerve pain in my right cheek.
Unfortunately, the 'knife in the face' pain alerted me in the middle of filling out sensitive paperwork with a client.  I did not feel it would be professional to pause and pull out the purple pill box, so I carried on, feeling a bit like someone who hears voices that others can't.  I refrained from asking if she, in fact, could see a knife in my face.
Back in my car I discovered that I had no water left with which to take my pills, and now my body was screeching at me. With the Migraine Alert System ringing in my head, I gripped the steering wheel and headed for the nearest Starbucks, 7.1 miles away.
It was 4:30 p.m. on a Friday. What felt like an hour later, I pulled into an insanely busy strip mall. My plan was to buy some food and water, take my meds, and sit in the car with my eyes closed until the headache (and traffic) eased enough to get home, where I'd sleep for a few hours in order for the migraine to truly pass. As I turned off the engine, I became aware of a sound … several sounds … trumpets, trombones, drums … a marching band!!  I was parked directly across the street from a high school football field and a marching band in full swing! I wanted to cry.
A pickup truck pulled into the handicap space next to me.  I worry that some people question the legitimacy of my parking placard because I do not look disabled.  In my hangry state (hungry-angry), I saw the other driver give me the side-eye. To be fair, he had an eye patch so he may have just been looking around rather than delivering judgement. My head hurt, the band was loud, and I thought somewhat defensively, "Yah … I see your eye patch." As quickly as I recognized my unintended pun, I followed it up in my mind with "… and I raise you MS fatigue, a migraine, and a #&*@#** marching band!"
I started to feel badly as I walked toward the store. I decided that if he went into the Starbucks I would try to strike up a conversation. "Hey, how about that band? Aren't they something?" He did not. I chose the Starbucks music and machine noise over the marching band, parked myself in a corner, ate some food and took my meds, then leaned my head against the wall and closed my eyes. And thought about the man with the eye patch.
Disability is not a competition. There were enough handicap parking spaces to go around. No one has ever actually said anything to me about using a handicap spot. The judgment by others, thus far, has all been in my mind. As the nerve pain diminished I had a realization that was painful in a different way.  Here's my Paul Harvey 'rest of the story' … the part I left out earlier.  Before I parked in the handicap spot, and despite the state I was in, I circled the lot full of cars and pedestrians three times. I passed a couple of regular spots that looked too narrow for me to safely maneuver into with my hand controls.
I'll say it again — there were enough handicap spots to go around. My realization? It is not a martyr-like 'somebody more handicap than me might need it' attitude, as I've told myself in the past.  It is not the fact that someone is going to yell at me or question me, and so what if they did?  The painful truth is that, 13 years into this thing, I still do not want to be disabled, and yet I am.
I can own a brace, hand controls, cooling vest, and all the other gear that serves my MS, but what I need to work on truly owning, is my MS. It does not have to completely define me, but it isn't going anywhere soon, and I need to do my part to accept, love, and be proud of ALL of me; to find a balance between accepting my disabilities and continuing to create new abilities. Thanks to a marching band and a man with an eye patch, I know I need to find that balance.
Note: Multiple Sclerosis News Today is strictly a news and information website about the disease. It does not provide medical advice, diagnosis, or treatment. This content is not intended to be a substitute for professional medical advice, diagnosis, or treatment. Always seek the advice of your physician or other qualified health provider with any questions you may have regarding a medical condition. Never disregard professional medical advice or delay in seeking it because of something you have read on this website. The opinions expressed in this column are not those of Multiple Sclerosis News Today, or its parent company, BioNews Services, and are intended to spark discussion about issues pertaining to multiple sclerosis.