What the Falck Is Going On?
Stranded.
Not on a desert island but in an empty hospital ward.
Earlier, it had been filled with fellow MSers getting their Ocrevus (ocrelizumab) infusions.
I write "fellow," but as ever, we blokes were in the minority — there were only two of us. Research indicates that more women than men have MS by a ratio of nearly four to one.
Since a relapse in February of last year robbed me of being ambulant, I've had to rely on the hospital-provided ambulance service to get me to my medical appointments.
I had no idea it existed until, in extremis, one of us — well, let's be honest, probably my wife — discovered it.
My appointment was at 8 a.m. I had to be ready two hours before. So, I was up at 5 a.m.
Then, nothing.
My wife suggested calling them.
The number had changed. Hmmm.
Previously, you could get hold of them during out-of-office hours — not anymore.
Eventually, transport did turn up.
The service was being provided by a new company. Their operatives couldn't get them on the phone, either!
The company is called Falck.
Yes, I went through the full gamut of puns (mostly rude) I could think of. Fortunately, the service was so new that what turned out to be a jovial crew hadn't heard of them before!
The other battle we had to face was the company GPS, which they had to religiously follow or an alarm goes off at headquarters. We were already terrifically late, and the directions proceeded to take us in circles. I'm not going to disparage anyone's religion, so as it's a man-made device, I'm blaming atheism!
I pointed out from the back that as the company was ignoring all of us, there was very little likelihood of them noticing an alarm.
The company GPS was duly ignored, and back routes were taken to get us through the morning London rush hour using another app. The only trouble is that now everyone can do this. In the old days, it was just drivers of black taxis or if you had the secret knowledge of driving on your own patch.
I was 40 minutes late. It seems this was now de rigueur for anyone being delivered by hospital transport. It also meant that I was among the last to start my treatment.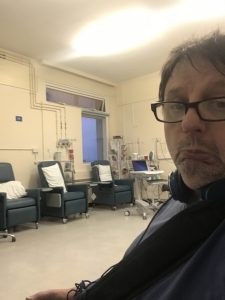 My return was requested by the staff. I also phoned just to be sure and was assured that I was definitely in the system.
Then a nurse informed me I was suddenly not.
Their office was closed again.
As it was late, my wife was available to come and get me. I also now have a wheelchair-accessible vehicle, but Falck doesn't know that. If I had no family, I would be stranded. Taxi drivers don't get disabled people into inaccessible houses!
I've written two emails to the company giving them a chance to comment.
Unsurprisingly, there's been no reply.
The company appears not to give a Falck!
***
Note: Multiple Sclerosis News Today is strictly a news and information website about the disease. It does not provide medical advice, diagnosis, or treatment. This content is not intended to be a substitute for professional medical advice, diagnosis, or treatment. Always seek the advice of your physician or other qualified health provider with any questions you may have regarding a medical condition. Never disregard professional medical advice or delay in seeking it because of something you have read on this website. The opinions expressed in this column are not those of Multiple Sclerosis News Today or its parent company, BioNews Services, and are intended to spark discussion about issues pertaining to multiple sclerosis.