Twice Daily Dosing and Side Effects Top Reasons Patients Seen to Stop Tecfidera in Small Study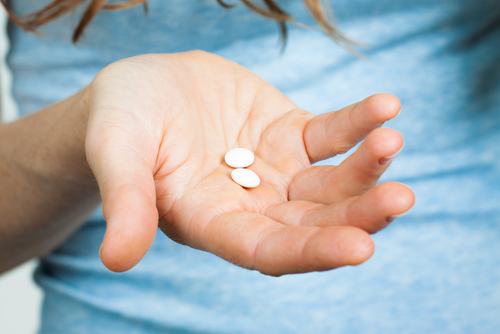 A twice-daily dosing schedule and side effects like nausea and flushing are key reasons why more than 10% of multiple sclerosis (MS) patients followed for a year stopped using Tecfidera (dimethyl fumarate) as prescribed, a single-site study reports.
Adherence to treatment is key to patients' health, and doctors should not overlook these barriers and counsel patients before starting a treatment, its researchers said.
The study "Assessing Barriers to Adherence with the Use of Dimethyl Fumarate in Multiple Sclerosis" was published in the journal Clinical Drug Investigation.
Complying with prescribed medication is crucial in reducing relapses and neurodegeneration in MS. Thus, treatment adherence rates are important to consider when patients start on a disease-modifying therapy (DMT).
Poor adherence relates to worse clinical outcomes, including more frequent and severe relapses. People can have many reasons for stopping a treatment. Side effects weigh substantially, as do social and economic factors, healthcare team support, and issues relevant to the individual patient.
Much research has gone into barriers in adherence to injectable DMTs (like interferons), but less is known about compliance with oral medications.
Researchers in the U.S. set out to define the patient-related factors that affect adherence to Tecfidera (marketed by Biogen), and understand how patients' perceptions of this medication influenced their compliance.
They monitored Tecfidera compliance in 25 MS patients (mean age of 41.1 at study's start) over 52 weeks, during routine clinical visits to the department of neurology of Morsani College of Medicine, University of South Florida.
Of these people, 26% had never before been treated with a DMT. Most were switching from an injectable medication — glatiramer acetate (brand names Copaxone, Glatopa, generics also available; 28%), interferon-beta-1a (brand names, Avonex, Rebif; 20%), or interferon-beta-1b (brand names Betaseron, Extavia; 3%).
Adherence was determined by looking at how many times a patient opened the pill bottle (MEMS cap compliance), and the number of pills taken by the patient (pill count compliance).
An electronic monitoring system was used, consisting of a small microcircuit inserted into the drug packages, which recorded each time bottles were opened. To determine PCC, pills taken by the patient were counted at each visit (pills not brought back in the bottle).
Results showed that at the final follow-up visit (at week 52), the rate of pill count compliance was 88.5%, and MEMS cap compliance was 83.5%.
Treatment compliance was found to be significantly related to the patient's overall perception of treatment convenience, side effects and effectiveness, according to patient responses to a specific survey.
The most common side effects of Tecfidera treatment were nausea (23%) and flushing (redness, itching or rash; 66%), with most of such reactions occurring over the first four weeks of treatment.
Patients who considered Tecfidera easy to take, with side effects that were not bothersome and didn't interfere with their overall satisfaction — or trouble their physical and mental health — were more likely to use it as prescribed and be compliant.
Good compliance was also seen in those who felt satisfied with Tecfidera's effectiveness. Regarding this, researchers noted that the perception of treatment effectiveness depended on a patient's feelings of depression and fatigue. Those more affected by these symptoms were more likely to feel that Tecfidera was not helping them.
Patients with fewer symptoms interfering with their quality of life were also more compliant. Factors weighing on life quality included memory problems, difficulty concentrating, vision changes, dysesthesias, how well a person felt understood and encouraged by family and friends, and/or satisfaction with partners and their sex life.
Of all the identified patient-related barriers to compliance with Tecfidera prescriptions, researchers highlighted two as key: adverse events and the medication's twice-daily dosage scheme. Among all oral DMTs, Tecfidera is the only one that needs to be taken twice each day.
"Adherence rates are an important factor to be considered when starting patients on DMT. DMF [Tecfidera] creates its own barriers to adherence with our study highlighting some, including twice-daily dosing and AEs [adverse events] experienced following treatment initiation," the researchers wrote.
Healthcare providers play an important role in compliance, they added, specifically in the relationship they establish with patients, and how well they make them feel understood and respected.
"Healthcare providers should be aware of these [adherence] barriers prior to treatment initiation, and counsel patients appropriately," the team concluded.