RRMS Put Woman on Path Toward 'Paying It Forward'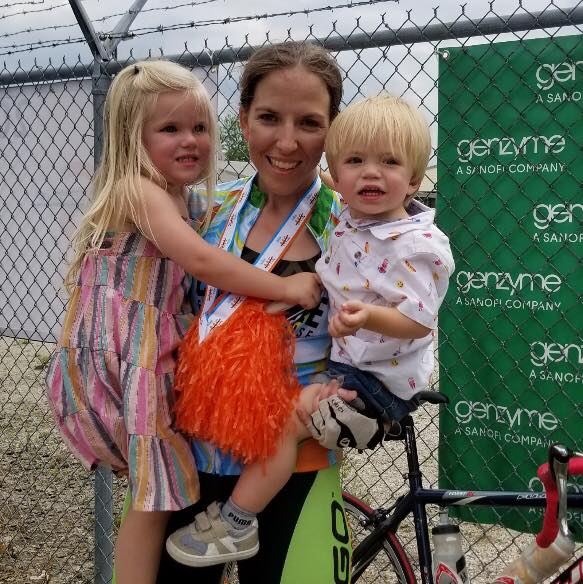 Erin Stevenson's doctor laughed when she asked him 13 years ago if the vertigo she felt while training for a first 100-mile bike ride could be related to her mother's multiple sclerosis (MS).
MS isn't a genetic disease, but Stevenson managed to persuade the doctor to schedule a brain MRI for the next day. Stevenson, who was working for the National MS Society at the time, was somewhat knowledgeable about the disease and her mother's illness made her feel like she couldn't rule MS out.
Her July 3, 2009, brain scan revealed 12 lesions, confirming her suspicions, and she was diagnosed with relapsing-remitting MS (RRMS).
Now 35, Stevenson is a yoga teacher for children, a spin class instructor at an area community college, an MS fundraiser, and a mother of three. She's been off medication and symptom-free for 10 years, with the exception of two flares, she said. The only suggestion of MS is her orange ribbon tattoos, representing her and her mother's battle with MS. She hasn't had a new lesion since 2012.
Stevenson doesn't credit her recovery to a standard MS treatment regimen. She said her body didn't react well to the MS therapies she was first prescribed after her diagnosis. Two of the approved treatments she tried caused flu-like symptoms, and one slurred her speech.
Instead, she credits changes in diet, lifestyle changes, and a lot of yoga with helping her stay on top of her disease. 
She stopped eating dairy, gluten, and eggs when a sensitivity test showed she reacted badly to those foods. Her brain fog and low energy levels immediately went away, she said.
"I think general nutrition is something that is lost in regards to any type of illness," Stevenson said from her home in Chicago. "I see the proof in my own self that when we put the right fuel in our bodies, when we take the time to move our body — and again, mental health is also key here, too — and manage our stress that you're able to, I think, battle those bigger issues, whether it is stress, whether it is a bigger illness like cancer or MS."
A number of studies have looked at the relationship between diet and MS symptoms. In 2019, researchers found that a Mediterranean diet — one that focuses on fish, fruits, vegetables, and whole grains and that eliminates meat, dairy, and processed foods while limiting salt — helped to lower fatigue levels and disability.
A low-fat, plant-based diet also might help overcome fatigue, according to a 2016 study. The diet led to no significant changes in brain MRIs or relapse rates, but aided with fatigue and weight, reduced cholesterol, and improved insulin levels. This study's scientists, like those of most dietary studies, also noted that its results should be approached with caution and more research is needed to better understand the benefits of dietary changes.
An alternative approach
Stevenson first sought out alternative treatment ideas while a student at Illinois State University. Because of her mother, she had created a Facebook group called End MS, which had ballooned to more than 7,000 members. Discussions about alternative medicine and nutrition were common, and they led Stevenson to the nutritionist who ordered the food sensitivity test.
Yoga also came later for Stevenson. When she injured her iliotibial band — connective tissue that runs from the hip to below the knee — while training for the Chicago marathon, a physical therapist suggested yoga.
What started as a strictly physical practice became spiritual, helping her manage the stress of caring for her parents. Her father developed Alzheimer's disease.
"Yoga is a lifestyle. It is not just moving your body and doing poses," Stevenson said. "There's branches of it. It's breathing, it's theology, it's being a good human."
Her mother, she said, inspired her to take up yoga. Leslie Bickus died of lung cancer in 2012, three years after Stevenson's diagnosis. Despite her own MS, however, Bickus held a job at the same company for years, working her way up from the mailroom to executive vice president with no college education.
She told her daughter that, at the end, what really mattered most was family.
"That was a big shift to me of reprioritizing what I was working on," Stevenson said. "That's where I was like, I could become a yoga teacher and I could go to fitness centers and bring my kids with and drop them off at the childcare."
From there she said she fell into teaching children's yoga, which has become a passion for her, one that she's paying forward.
Doing 'Good' moves
Stevenson started the Do Good Movement in 2015 after working for Team in Training, a fundraising initiative for the Leukemia and Lymphoma Society, for a handful of years after her parents' deaths. Her father, Ronald, died of his Alzheimer's six months apart from her mother.
The Do Good Movement is an educational program for children from pre-kindergarten to eighth grade that uses yoga concepts to teach mindfulness, self-awareness, interpersonal skills, and community service. Stevenson and her team of four instructors host workshops at public schools throughout Chicago that meet the school district's social-emotional learning standards. Between 700 to 1,000 students participate in Do Good Movement classes each year.
Class sessions largely focus on breathing, self-regulation, and movement. But she includes lessons about karma — the belief that everyone's good and bad actions have ethical consequences in their next existence — to encourage students to be better people.
Recently, she had students write down any negative thoughts or hurtful words said to them, then crumple up the paper and play basketball with it.
The Do Good Movement also hosts events that help children give back to the community. Before COVID-19, students at Healy Elementary School learned how to cook a meal with their families, and sold tickets to benefit Laurie Children's Hospital of Chicago. Stevenson said they were double acts of goodness, spending quality time with family and helping in a local cause.
While hesitant at first, school administrators soon saw the benefit of teaching yoga to children, especially at young ages, she said.
"Preschools absolutely saw an impact right away, where 3-year-olds are using their breath to calm their bodies down," Stevenson said. "In the elementary setting, they see students utilize the tools of breath work and movements to calm and relax them before tests."
Stevenson also helped to start a fundraiser at her local fitness center at Moraine Valley Community College, where she works as a spin class instructor. In the center's third Cycle For A Cause event in April, individuals signed up for back-to-back spin classes while all proceeds, around $2,000, went to the National MS Society's Bike MS program.
Through that event and individual fundraising efforts, Stevenson and the fitness center team have raised more than $7,000 ahead of the annual Chicago area Tour de Farms, a two-day, 175-mile Bike MS ride through the Illinois countryside. Stevenson will be among the riders, thanks to her MS not being active.
Mindful healing
While diet and exercise have succeeded in treating her MS, Stevenson is not a skeptic of medicine. She believes in the science behind treating MS, even though the medications she tried did not work for her.
"Doctors are amazing people and they're extremely knowledgeable, but they are also human and they don't know everything there is to know," Stevenson said. "And it's up to you to truly educate yourself on the best way to manage your disease and your life.
"It's kind of like throwing a pebble into a pond and watching the ripple effect," she added. "Once we're able to find a solution or treatment for one disease, it's going to help lead to solutions and treatments for others."
She hopes to pass the wellness she discovered through her MS journey along to her children and future generations. Stevenson said the pandemic, broken homes, and other social problems are affecting children. Part of her calling is to change children's lives through mindfulness and to help address their mental health needs.
"It's a habit to know to take a breath when you have an emotional response. It's a habit to move your body, it's a habit to take time for yourself to define gratitude to do all the things that just make life more enjoyable and fulfilling," Stevenson said.
"If we can get it into a child's mind in the beginning, I feel like the possibilities of them being in a better spot later on in life is just exponentially more."