Neural Sleeve Improves Mobility, Reduces Pain and Depression: Cionic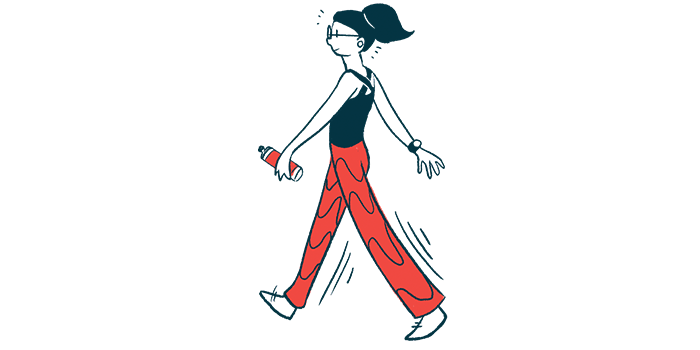 Cionic's leg-worn Neural Sleeve, recently authorized in the U.S. to aid walking in people with multiple sclerosis (MS) and other conditions that impair mobility, reduced foot drop in a small clinical trial.
Patients in the trial also reported marked reductions in pain and mental health problems, according to Cionic.
These findings, announced in a blog post from the company, have not yet undergone peer review. Data on physical outcomes are available in a preprint titled, "Augmenting gait in a population exhibiting foot drop with adaptive functional electrical stimulation."
Cionic's Neural Sleeve is designed to be worn around the leg. It senses movements during walking and provides electrical stimulations to muscles, which can help to ease walking difficulty due to leg muscle weakness or foot drop (when the front of the foot does not lift up when taking a step). The device was cleared by the U.S. Food and Drug Administration in March.
A research team led by scientists at Cionic evaluated 32 people with foot drop due to neurological conditions — eight of the participants had MS, while 20 had experienced a stroke, two had a spinal cord injury, one had cerebral palsy, and one had foot drop of unknown cause. The participants underwent assessments of walking dynamics, one while wearing the Neural Sleeve, and another without the assistive device.
Results showed the angle of the ankle when the heel hits the ground increased by 5.2 degrees on average when patients wore the Neural Sleeve. An increase in this measure suggests patients could more easily raise their toes above the ground. In total, 93.8% of patients experienced at least some increase, and the average increase was greater than the minimum change that would be considered clinically significant (4.9 degrees).
Inversion (turning in) of the foot also was reduced by 3.6 degrees on average when patients wore the Neural Sleeve.
"We demonstrated statistically significant improved gait in 32 participants exhibiting symptoms of foot drop due to neurological disorders. On average, these participants showed a 5.2° increase in dorsiflexion at heel strike and a 3.6° reduction in ankle inversion during swing phase. Together, this brings the ankle into a more stable, neutral position, which is associated with decreased fall risk," the researchers concluded.
In addition to the objective gait analyses, Cionic also administered questionnaires to patients who used the device, assessing their experiences with the Neural Sleeve across five domains: mobility, self-care, activities of daily living, pain, and anxiety/depression. These data were not included in the preprint.
According to Cionic, after eight weeks of using the Neural Sleeve, mobility scores improved by 30% on average. In addition, the number of patients reporting moderate to severe pain reduced by 60%, and the number reporting moderate to severe anxiety or depression dropped by 75%.
"We were expecting to see gains in mobility, and we did. … What really surprised us was the dramatic reduction to pain and anxiety that was reported," the company stated in the blog post. "In these results, we can see exactly why mobility is the most important measure of human health, and how helping users achieve greater independence of movement can lead to so much more."