dreaMS App Can Detect Digital Biomarkers, Add to In-clinic Testing
App can reliably measure neurologic functions seen as meaningful by patients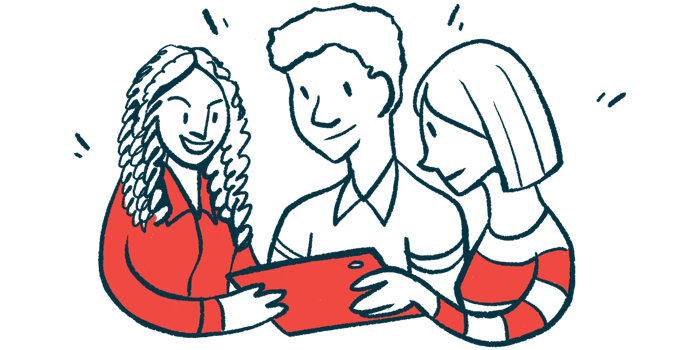 The 11 active tests of the dreaMS smartphone app — which evaluates functional domains affected by multiple sclerosis (MS) — enabled reliable and remote measurement of neurologic functions and were perceived as meaningful among MS patients, a small trial shows.
Data collected through the app could offer a way of finding digital biomarkers that complement in-clinic but less-frequent functional evaluations.
The findings overall "encourage further development of this software application as an important future monitoring tool for [people living with MS]," the researchers wrote.
The study, "Reliability and acceptance of dreaMS, a software application for people with multiple sclerosis: a feasibility study," was published in the Journal of Neurology. 
dreaMS offers way to monitor patients remotely at home
MS progression is usually monitored with functional evaluations in the clinic, including the expanded disability status scale (EDSS), and other motor and cognitive tests.
However, regular evaluation of MS patients in their daily lives can provide valuable insight into disease-related functional impairments, such as balance or step regularity, and help complement the less-frequent clinical evaluations.
"In the era of the COVID-19 pandemic, remote assessment in the natural environment of people with MS (PwMS) became even more important," the researchers wrote.
Smartphone apps like Healios' dreaMS offer a way to monitor patients at home. Sensors on mobile devices can capture quantifiable measures of movement and behavior during specified tasks performed via the app.
These are then analyzed by an algorithm to identify "features," also called digital measures, to potentially serve as digital biomarkers for MS.
Researchers in Switzerland conducted a study, dubbed DreaMS (NCT04413032), from October 2020 to February 2021 to assess the feasibility of the dreaMS app. It included 31 MS patients (68% female) with a mean age of 43.4, and 31 age- and sex- matched healthy volunteers.
At the study's start, all participants underwent standard clinical tests of motor and cognitive function to serve as a reference for the digital evaluations, and patients also completed the EDSS.
The dreaMS app was installed on smartphones of the participants, who were given a wearable smartwatch to passively monitor activity levels and energy consumption.
Participants were asked to perform 11 different tests using the dreaMS app at home over five weeks, with each test being completed once or twice weekly. These tests were designed to evaluate five functional domains typically affected in MS: movement, balance, dexterity, cognition, and vision.
Data collected on the smart devices were processed through an algorithm to collect distinct performance features that may be meaningful digital biomarkers for MS.
For example, one movement test was the two-minute walk test, in which participants were asked to walk briskly for two minutes without a break. An example of a feature extracted from that test would be the number of steps taken.
During week six of the trial, a number of patient-reported outcomes were collected via app-based surveys.
One of the study's goals was to identify features that could be reliably measured across all scheduled test repetitions using the app's 11 tests. Of the 133 features extracted from all tests, 89 were deemed reliable, and each of the 11 tests produced at least one reliable feature.
The findings suggest that these tests "allow for reliable, unsupervised, remote measurement of neurologic functions in the 'natural' patient environment," the researchers wrote.
High adherence to using the app
A second goal was to assess user acceptance and meaningfulness of the tests, as reported through a questionnaire.
Participants' responses showed that their overall impressions of the app and willingness to use it in the future were generally "good," and that "all 11 tests were perceived as meaningful among PwMS," the team wrote.
While adherence to the tests was high, with the percentage of completed tests ranging from 91% to 99%, this "should be interpreted with caution as the study lasted only 6 weeks per participant and longer studies have shown severe drops in adherence," the researchers wrote.
While the study was not designed to assess links in performance between the app and clinical reference tests, EDSS, or patient-reported outcomes, "exploratory analyses showed promising correlations for all tests except Standing balance," they added.
Exploratory analyses on the differences between MS patients and healthy volunteers were also performed. One test had features that differed significantly between patients and healthy people: a climbing stairs evaluation.
This "might be explained by the overall low disease severity of patients," the researchers wrote, noting that the stairs test might be "among the most sensitive tests to detect subtle gait [problems]."
Also, smartwatch exploratory data showed that MS patients were less active compared with healthy volunteers, reflected by fewer step counts, and less walking distance and daily energy consumption.
"Passive monitoring best reflects spontaneous, everyday function," and therefore may serve as a good complement "to monitoring through active tests like those used in dreaMS," the researchers wrote.
All MS patients remained stable and without relapse or signs of EDSS worsening during the study. No adverse events were reported.
To further validate the dreaMS app, a larger trial (NCT05009160) is currently underway, and is recruiting up to 450 adults with MS and healthy volunteers to test the app for up to two years.
That trial's main goals are to assess the association between the digital tests and clinical reference tests, and whether changes in digital biomarkers can predict clinical worsening.