MS News That Caught My Eye: Cannabis Gum, Ocrevus, Misdiagnosis and Other Stories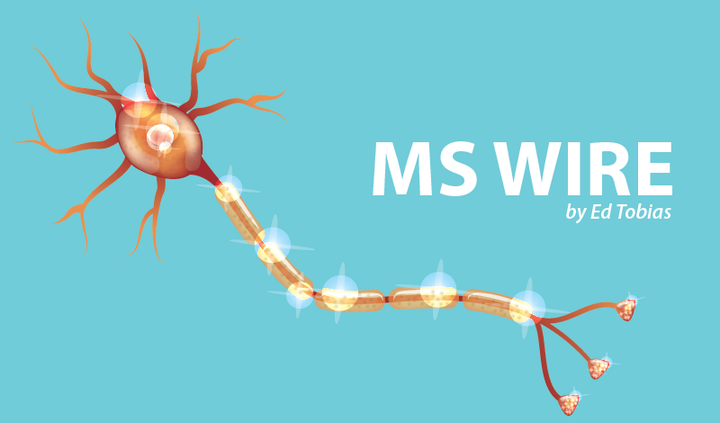 The MS Wire is adding a third weekly item, beginning today. It's a list of several news items that appeared in MS News Today over the preceding week and that caught my eye.
Studies are focused on a cannabis-based chewing gum to treat MS pain. The gum contains CBD and THC and is being tested in the U.S. and Europe. According to a drug company official, "The development of MedChew RX gum will be carefully formulated to ensure that the drugs are preferentially absorbed orally within a specific window of time to provide the best therapeutic outcome for the patients."
Where do I go to sign up?
Axim Biotechnologies recently announced that its U.K. partner, Quay Pharmaceuticals, has secured licenses from the British Home Office to continue developing and importing its medical cannabinoid product MedChew Rx — a potential treatment for pain and spasticity in people with multiple sclerosis (MS), among other illnesses.
MedChew Rx is a gum containing 5 mg of cannabidiol (CBD) and 5 mg of tetrahydrocannabinol (THC). The gum is intended to offer patients more consistent relief than existing cannabis-derived products that are smoked or eaten.
***
Two MS patients who participated in clinical trials of Ocrevus tell their stories. They provide some excellent views about weighing the risks, and benefits, of taking this new drug.
Pamela Arterbridge noticed something was wrong back in 2013 when she woke up one morning, and her legs and feet were tingling.
Two years later, Lorraine Lee knew she had a problem when her right leg became extremely fatigued after every workout.
Neither realized their eventual diagnosis would be multiple sclerosis (MS).
"I can now walk around in my house without a cane," Lee said of the treatment. "Last year I could not."
***
This report comes as no surprise to me. It verifies what lots of MS patients believe: that they developed MS long before anyone diagnosed them. Here's what Canadian researchers found when they reviewed over 30 years of health records.
Patients with multiple sclerosis (MS) may be developing the disease for up to five years before the first clinical diagnosis is made, a study has found.
The study, "Health-care use before a first demyelinating event suggestive of a multiple sclerosis prodrome: a matched cohort study," was published in the journal The Lancet Neurology.
The findings suggest the existence of a measurable MS prodrome, an early set of signs and symptoms that can indicate the onset of demyelination occurring in MS patients. If this is the case, it may allow for the establishment of an earlier window of opportunity to identify and potentially treat MS.
***
This report goes hand-in-hand with the previous story. It's difficult to diagnose MS and results in early treatments often fail to help. Half of those surveyed say they had to make nearly half a dozen doctor visits before getting a diagnosis, slowing their treatment. That shouldn't happen.
A significant percentage of multiple sclerosis (MS) patients struggle with improper diagnoses and ineffective treatments, a national survey of more than 5,300 patients found.
The fifth annual survey, "MS in America 2017," was conducted by Health Union between Jan. 25 and March 1, 2017. It was released through the MS online community.
Another survey finding was that fatigue and pain are two of the symptoms that have serious impacts on patients' lives.
People with multiple sclerosis said an accurate diagnosis can prove difficult to obtain. Almost 50 percent of respondents reported having to make more than five office or hospital visits before receiving their diagnosis.
Forty-two percent said they were mistakenly diagnosed with other conditions, including depression, migraine disease, fibromyalgia, or chronic fatigue syndrome.
***
I'm being treated with Lemtrada. After Ocrevus was approved I mulled over whether I should switch from one drug to the other. My decision was to stick with Lemtrada. This study, paid for in part by the company that makes Lemtrada, seems to support my decision.
Lemtrada (alemtuzumab) may be more effective in preventing relapses in multiple sclerosis patients than the newly approved Ocrevus (ocrelizumab), according to a study presented April 28 at the American Academy of Neurology (AAN) 2017 Annual Meeting in Boston.
The study, supported by Sanofi Genzyme and Bayer HealthCare Pharmaceuticals, compared the two drugs using an analysis of how many patients need to be treated to prevent one additional bad outcome. This type of analysis, called "number needed to treat" (NNT), allows comparisons of drugs in the absence of trials that compare different drugs side by side.
 ***
Note: Multiple Sclerosis News Today is strictly a news and information website about the disease. It does not provide medical advice, diagnosis, or treatment. This content is not intended to be a substitute for professional medical advice, diagnosis, or treatment. Always seek the advice of your physician or other qualified health provider with any questions you may have regarding a medical condition. Never disregard professional medical advice or delay in seeking it because of something you have read on this website. The opinions expressed in this column are not those of Multiple Sclerosis News Today, or its parent company, BioNews Services, and are intended to spark discussion about issues pertaining to multiple sclerosis.