Staying Afloat in the Middle of the Storm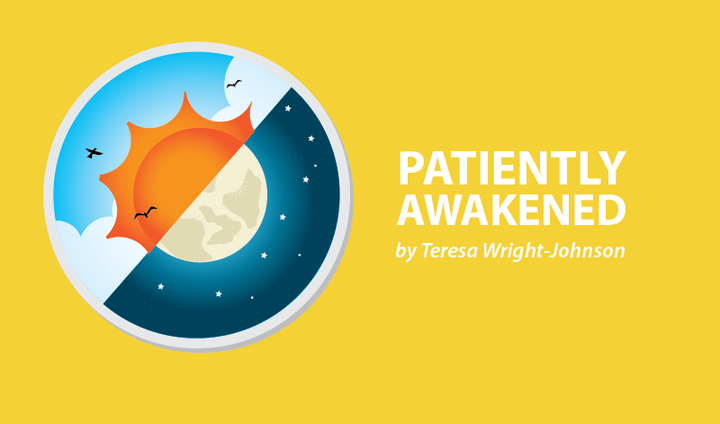 The storms keep coming. Whenever I think I will land ashore, a hurricane sends me back into the eye of the storm. I want to write; however, I fall short of time and, ultimately, the words to explicate all I am going through.
Most writers have interval writer's block. Emotional exhaustion is a distinct setback, an onerous beast. There is so much to say, but the sentences refuse to form on the page. I cannot count the times I stared at my computer, drying the tears that were dripping from my eyes.
I have been in a depressed state, and it behooves me to acknowledge this truth. As an MS and heart health advocate, I would be remiss not to write about mental illness awareness.
Anxiety and depression are intruders that are familiar to many of us. They arrive when we are not expecting company, with baggage and an unknown departure date. They take a seat in our minds and usurp control. It is a known fact that multiple sclerosis often accompanies depression and anxiety. For me, pain worsens my mental state.
My family has been going through arduous times involving deaths, a life-changing injury, and my mother's illness. The emotional toll these past months have taken is unimaginable. All the while, my pain worsened. I turn to and rely on my faith to get over the obstacles life presents me with. There were times when I earnestly questioned whether my faith is as strong as I profess. Anxiety will challenge your entire belief system. The trite and sometimes relevant rhetorical questions of "Why me?" and "How much more can I take?" overrule.
Long ago, I would not have had the courage to confess this verity; I felt guilt over having these emotions. That is no longer true. Old things have passed away. Sitting and allowing myself to absorb the time and space I am in is therapeutic and mandatory. It is heartening to know that it is OK to not be OK all the time. I recognize that my faith empowers me to fight. My weak spirit doesn't nullify the core of my spiritual being. These feelings will pass, and I will move on.
Self-awareness is my superpower, and I value it wholeheartedly. I have become acquainted with the most intricate parts of my existence. I know when I am ill. I know when I am in trouble. I know when I am difficult and miserable. I know that I am human and that trials will come. Ultimately, I will withstand the storm and my ship will dock — worn, damaged, and beautifully decorated with the battle scars of its survival.
***
You never know what is going on in the life of another person. A smile often hides great pain and struggle. Make effort to reach out to your loved one, friend, or neighbor. Make it a priority to pay attention, and please do not judge. Take the time to show you care. It may save a life.
Depression, anxiety, and any other mental health-related disorders are not choices. We cannot just "snap out of it" or "pray it away." It is the reality of many. Do your due diligence. Learn. Live. Tell. Support. Repeat.
To my fellow MS warriors, please know that you are not alone in your struggle. We understand the fatigue, the pain, and the constant struggle between your body and mind. Remember that help is available. Acknowledging the need and summoning help is brave. Courage doesn't always roar. It may be a silent whisper or a small step.
Important numbers to remember if you need immediate help and/or resources are the National Suicide Prevention Lifeline at 1-800-273-8255 and The National Multiple Sclerosis Society at 1-800-344-4867. Keep your head up. Thanks for giving me the courage to speak my truth and to retreat when necessary.
What can I do to quell this pain? It hurts. It aches. It gnaws.
Days go by and years come to pass, My flesh is open and raw.
I have to believe that one day soon, Victory will be mine to claim.
If I can just get through today, A crown will bear my name.
("Just A Piece of Peace," Teresa I. Wright-Johnson)
You are invited to follow my website at www.teresawrightjohnson.com
***
Note: Multiple Sclerosis News Today is strictly a news and information website about the disease. It does not provide medical advice, diagnosis, or treatment. This content is not intended to be a substitute for professional medical advice, diagnosis, or treatment. Always seek the advice of your physician or other qualified health provider with any questions you may have regarding a medical condition. Never disregard professional medical advice or delay in seeking it because of something you have read on this website. The opinions expressed in this column are not those of Multiple Sclerosis News Today or its parent company, BioNews Services, and are intended to spark discussion about issues pertaining to multiple sclerosis.