More Answers About COVID-19 Vaccines and MS

A little over a year ago, I wrote about whether people with multiple sclerosis (MS) should get a COVID-19 vaccine. I was anxious to be vaccinated as soon as I could, but I was also concerned about how the vaccines would affect someone with MS.
Would the side effects be worse for MS patients than for healthy people? Would the disease-modifying therapies (DMTs) used to treat MS affect the ability of the COVID-19 vaccines to do their job, or might the vaccines actually exacerbate our illness?
Fast-forward to today, and it looks as if we have the answers to those questions.
Similar vaccine reactions
My first question was answered by a survey of 719 vaccinated people with MS conducted by iConquerMS, a people-powered research organization, that was published in the journal Neurology. The survey reports that there's not much difference between the side effects that people with MS experienced and those reported by healthy people.
A reaction after the first shot was reported by 64% of people with MS. The most common reactions were injection site pain (54%), fatigue (34%), headache (28%), and malaise (21%). In a smaller group of people with MS who received a second shot, 74% reported similar side effects.
Interestingly, as illustrated in the chart below, the percentage of MS patients reporting a reaction was somewhat lower than the percentage reported by healthy people during clinical trials. This was particularly true regarding injection pain. (Maybe MS patients are just more used to getting stuck with needles.)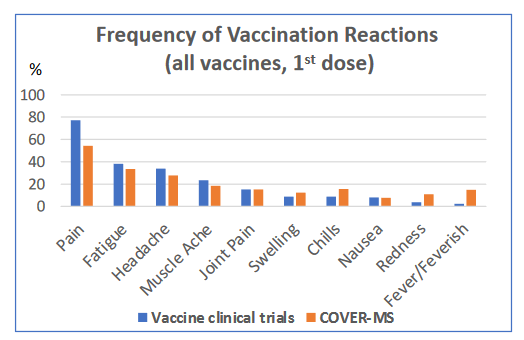 Efficacy depends on the DMT
The type of DMT an MS patient has been treated with can affect the ability of vaccines to protect against COVID-19. Most DMTs work by reducing the activity of the immune system, lessening the inflammation that drives MS. But doing this could also dampen the ability of the immune system to fight the SARS-CoV-2 virus that causes COVID-19.
The concern is primarily with anti-CD20 therapies — ofatumumab, ocrelizumab, rituximab, and fingolimod. A study published in the Annals of Neurology reports that after being vaccinated, patients treated with these DMTs were about 96% less likely to show an immune response to the virus than people not using an anti-CD20 DMT. But no significant effect on COVID-19 vaccine efficacy was detected in people treated with eight other DMTs, treatments that didn't attack CD20 B-cells.
No evidence COVID-19 vaccines exacerbate MS
I have read anecdotal reports of people who have experienced MS flares after receiving a COVID-19 vaccine, but these seem to be pseudo-flares, related to the fever these shots may cause for a day or two. The vaccines are "not likely to trigger an MS relapse or have any impact on long-term disease progression," according to experts with the National Multiple Sclerosis Society.
Should you get vaccinated?
I hope there is no one still on the fence about whether to get a COVID-19 vaccine. The timing of it may require a discussion with a neurologist, especially for patients being treated with an anti-CD20 therapy. (The National MS Society has an excellent list of timing considerations on its website.) But bottom line, the society believes the risks of contracting COVID-19 outweigh any potential risks from the COVID-19 vaccines, and that people with MS should be vaccinated.
I've had my two Moderna shots, plus the booster, and the vaccine didn't impact my MS at all. And when someone we'd been in close contact with recently became ill with COVID-19, I was very glad to have the jabs.
You're invited to visit my personal blog at www.themswire.com.
***
Note: Multiple Sclerosis News Today is strictly a news and information website about the disease. It does not provide medical advice, diagnosis, or treatment. This content is not intended to be a substitute for professional medical advice, diagnosis, or treatment. Always seek the advice of your physician or other qualified health provider with any questions you may have regarding a medical condition. Never disregard professional medical advice or delay in seeking it because of something you have read on this website. The opinions expressed in this column are not those of Multiple Sclerosis News Today or its parent company, BioNews, and are intended to spark discussion about issues pertaining to multiple sclerosis.