How to survive an MRI if you are claustrophobic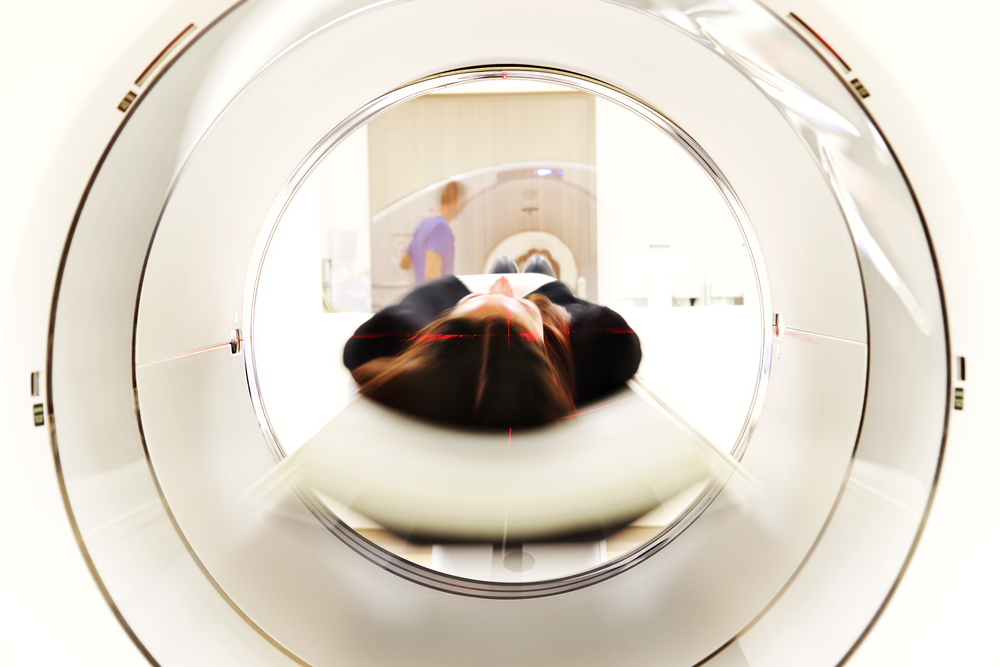 Last updated April 26, 2023
A key test for identifying multiple sclerosis (MS) during diagnosis, or to confirm a relapse, is magnetic resonance imaging (MRI.) For those who've never had to undergo an MRI, the thought of having this test might be terrifying. Being encased in a magnetic tube that, when operational, sends out deafening noise and requires complete stillness can be intimidating.
This is especially true for those who need to undergo diagnostics with and without contrast dye, and who also may need images of both the brain and spinal column. Remaining stone still for as long as an hour and a half in a tight space isn't a skill most people can boast! It doesn't help that others describe the experience in ways that make it seem impossible to endure.
However, there are ways to survive it. Even a claustrophobic person (me!) has found solutions for managing the discomfort that an MRI portends.
Hear no evil
The extreme drum-like noise of the magnets inside the tube are impossible to ignore.
By now, MRI technicians in radiology labs have acquired the appropriate headgear to protect your ears and help you block out the noise. Most also come equipped with piped-in music you can concentrate on to relax.
Whether you'll be able to relax and forget about the noise depends on a few things.
Did you choose the right music? Once, I selected stand-up comedy, and while I absolutely found it relaxing, I also kept wanting to laugh out loud. For practical concerns, that is not optional during an MRI!
Can you hear the actual music? Sometimes it's too soft and becomes a pointless endeavor. You can ask them to turn it up.
Use your imagination. Sometimes I imagine I'm at a concert sitting near the drum set, and the banging sounds are actual drums. They do have a rhythm, thankfully. Mind over matter can do a lot to get you through a long MRI.
Out of sight, out of mind
Claustrophobia is one of the biggest reasons why people can't handle the MRI test. Being tucked inside a tube and asked to remain still is challenging even for someone who doesn't have anxiety about tight spaces.
Some things I've tried:
Wear a washcloth over the eyes: If your vision is blocked in this fashion, then you can't really open up your eyes and stare at the closeness of the equipment that's mere inches from your face.
Get swaddled: When I go in, I ask to be tightly wrapped ("like a burrito") with one of those white cotton blankets so prevalent in hospitals. Why? There's a certain comfort in feeling "tucked in." Heavy blankets are used by insomniacs, people with autism, and those with anxiety so they can sleep better. Getting tucked in offers the same benefits.
Also, when the technician tucks the blanket around your arms and legs, you can't feel the machinery against your skin when they load you in for a scan. Not only that, but you can't "break the seal" of the blanket easily, which helps prevent anxious movement.
Be the MRI
Practicing self-hypnosis or meditation or relaxation techniques inside the MRI can turn the entire experience into a calm-fest.
Yogic breathing techniques help me tremendously. Granted, stillness is a requirement, so I can't take deep breaths without making movements. But even with ordinary breathing, you can count breaths as a way to focus attention on something besides the test. When I do this, I end up falling asleep.
I've also visualized golden rings of light encircling my body. I start with my toes and end with the crown of my head, each section of my body slowly melting under the imagined warmth of these rings. By the time I get to the top of my head, I'm relaxed and no longer feel my heart pounding through my chest.
Play it loose
I have issues with muscle cramping, which can be problematic during an MRI. If my back seizes while inside the tube, the only real way to relax the muscles is the one thing I am not allowed to do — move and stretch. So, I generally try to stretch to loosen up before I get in. The technicians don't mind if you do a few stretches first if it means you'll survive the round without having to start over again. Placing a pillow under your knees also takes pressure off your lower back.
Get a helper
When in doubt, you can request a very light relaxation medication like Ativan to settle nerves during an MRI. Make sure you also take your antispasmodic medications, if they've been prescribed. Stick to a healthy diet that supplies plenty of magnesium, calcium, and potassium so that you don't find yourself struggling through charley horses midway through a scan. Even a banana right before your test can work wonders.
---
Note: Multiple Sclerosis News Today is strictly a news and information website about the disease. It does not provide medical advice, diagnosis, or treatment. This content is not intended to be a substitute for professional medical advice, diagnosis, or treatment. Always seek the advice of your physician or other qualified health provider with any questions you may have regarding a medical condition. Never disregard professional medical advice or delay in seeking it because of something you have read on this website. The opinions expressed in this column are not those of Multiple Sclerosis News Today, or its parent company, BioNews, Inc., and are intended to spark discussion about issues pertaining to multiple sclerosis.