Higher COVID-19 Risk Tied to 2 MS Therapies, Even With Vaccination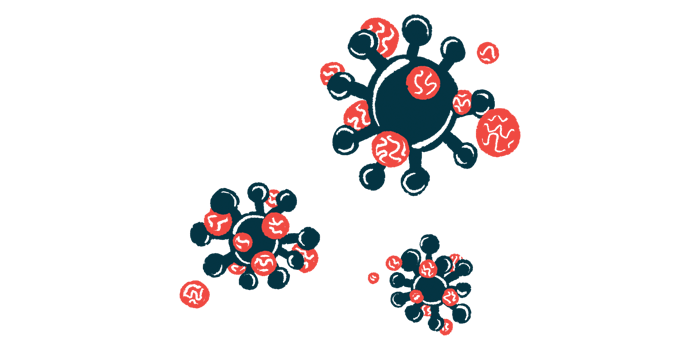 Fully vaccinated multiple sclerosis (MS) patients who are treated with Ocrevus (ocrelizumab) or Gilenya (fingolimod) have a significantly higher risk of COVID-19 infection than those given other immunosuppressive therapies, according to a study in Italy.
Called breakthrough infections, these post-vaccination cases of SARS-CoV-2 — the virus that causes COVID-19 — also were more severe in Ocrevus-treated patients than in individuals with MS who received other disease-modifying therapies (DMTs).
These findings add to an increasing number of studies linking a reduced efficacy of COVID-19 vaccines with Gilenya and B-cell depleting therapies such as Ocrevus.
"Patients treated with [Gilenya] and [Ocrevus] had a higher breakthrough infection rate than patients on other drugs," the researchers wrote.
The study, "Breakthrough SARS-CoV-2 infections in MS patients on disease-modifying therapies," was published in the Multiple Sclerosis Journal.
COVID-19 vaccines work by training the body's immune system to recognize SARS-CoV-2, allowing a faster and more potent immune response in case of future infection.
This immune response is mainly based on the production of specific antibodies that will rapidly bind to the virus upon exposure, mounting immune reactions against it. Thus, these vaccines may not work as well in people who have a weaker immune system, either due to disease or the use of immunosuppressive therapies — the mainstay of MS treatment.
In MS, increasing evidence suggests that the weakest vaccine responses, based on the levels of anti-SARS-CoV-2 antibodies, are observed in people receiving Gilenya and B-cell-depleting DMTs.
Gilenya works by "trapping" immune cells in lymph nodes, while B-cell-depleting therapies, such as Ocrevus and rituximab (marketed as Rituxan, among others), work by promoting the death of immune B-cells, which are responsible for making antibodies.
Now, a team of researchers evaluated the risk and outcomes of SARS-CoV-2 breakthrough infections among MS patients on different immunosuppressive DMTs.
Data were analyzed from 19,641 MS patients followed at 27 Italian MS centers. The patients' mean age was 42.3 years, 62% were women, and most had relapsing-remitting MS (84.7%).
Participants had received a full vaccination cycle — either two or three mRNA vaccine doses or one vaccine dose and a certified COVID-19 infection — between March and December 2021. This period preceded "the spread of the Omicron variant, that started its massive diffusion in Italy after the December 2021 holiday season," the researchers wrote.
Over a median follow-up of eight months after the last vaccine dose, 137 patients experienced breakthrough infections. These occurred at a mean of 142 days or about 4.5 months (range, 14–262 days) following vaccination.
Compared with patients on other DMTs, the rate of breakthrough infections was significantly higher in patients treated with Ocrevus (0.57% vs. 2%) and Gilenya (0.61% vs. 1.62%).
This reflected a 3.6 times higher risk of COVID-19 breakthrough infection with Ocrevus and a 2.7-fold greater risk with Gilenya. No other significant differences were detected between DMTs.
While the study also investigated rituximab use, there were too few individuals taking that B-cell-depleting therapy for researchers to analyze the data.
"The number of patients on rituximab is too small to draw conclusions about them, since just one additional infection would have drastically changed the rate of infection estimate," the researchers wrote.
Notably, the rates of breakthrough infections among those on Ocrevus or Gilenya were considerably higher in the first four months after the last vaccine dose than among those given other DMTs (about 0.8% vs. 0.14%).
Among patients who had a confirmed SARS-CoV-2 infection, most (69.3%) had mild to moderate symptoms that did not need treatment. A severe disease course that led to hospitalization was reported in 10 patients (7.3%), six of whom were on Ocrevus. One patient was admitted to the intensive unit care; there were no deaths.
The researchers also noted that there were no significant changes in hospitalization rates among Ocrevus-treated patients before and after vaccination. The hospitalization rate for the pre-vaccination period was 19.4% versus 16.7% post-vaccination.
For all other treatment groups, including Gilenya, there was a significant reduction — of 67% — in the hospitalization rate after full vaccination (11.9% vs. 3.9%).
These results suggest that "the rate of severe infections was significantly reduced in all the DMTs excluding [Ocrevus]," the researchers wrote. But they noted clinicians also may be more prone to admit MS patients on Ocrevus due to previous evidence suggesting they have a higher risk for a severe course.
"This study on a large sample of pwMS [people with MS] who received a full vaccination cycle confirms that the risk of contracting SARS-CoV-2 infection after COVID-19 mRNA vaccines is higher in pwMS on anti-CD20 monoclonal antibodies or [Gilenya]," the team wrote.
Among the study's limitations, the researchers emphasized the possibility that additional mild or non-symptomatic cases with positive home antigen tests may not have been recorded. Additionally, the team noted that there was no specific screening for COVID-19 among these patients.