Pro-inflammatory diet linked to relapses after 1st MS attack: Study
Researchers say anti-inflammatory diet may contribute to well-being of patients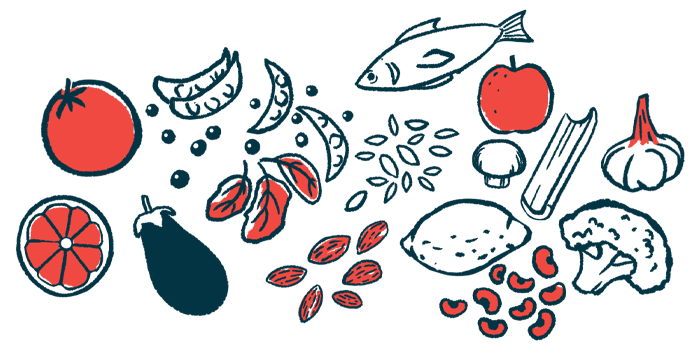 A more pro-inflammatory diet is associated with a higher risk of relapses and more inflammatory brain lesions for multiple sclerosis (MS) patients in the years following their first disease attack, according to a recent study.
However, dietary intake did not impact disability progression or the volume of lesions with chronic inflammation, seen on MRI scans as black holes.
The findings overall indicate a potential association between an inflammatory diet and inflammatory disease activity for early MS patients, researchers noted.
"While an anti-inflammatory diet does not replace anti-inflammatory medications in MS, this study provides evidence that an anti-inflammatory diet could contribute to the health and well-being of people with MS," they wrote.
The study, "A pro-inflammatory diet in people with multiple sclerosis is associated with an increased rate of relapse and increased FLAIR lesion volume on MRI in early multiple sclerosis: A prospective cohort study," was published in the Multiple Sclerosis Journal.
Healthy lifestyle changes may help improve symptoms and long-term outcomes
MS is an autoimmune disease marked by chronic inflammation that damages nerve cells. A number of treatments are available that help reduce that inflammation, but modulating inflammatory responses through additional changes in lifestyle habits may further improve disease symptoms and long-term outcomes.
Diet has been proposed as one such way of modifying inflammation in the body. Particularly, a pro-inflammatory diet, containing high amounts of fats and proteins, is thought to drive chronic inflammation and immune dysregulation that could affect the course of MS.
On the other hand, anti-inflammatory dietary components, like turmeric, fiber, or beta-carotene (the pigment that gives carrots their color), may have beneficial effects in people with inflammatory diseases.
The Dietary Inflammation Index (DII) was designed to assess the impacts of a person's diet on chronic inflammation. A higher DII score is linked to greater systemic inflammation as well as an increased risk of cardiovascular disease and colorectal cancer. Pro-inflammatory foods include red meat, processed meat, sugar-sweetened beverages, and refined grains.
In the study, researchers at the University of Tasmania, in Australia, aimed to explore the potential relationship between an inflammatory diet, as assessed by DII scores, and clinical outcomes for people with early MS.
They examined data from 190 people included in the AusLong Study, which followed individuals annually for 10 years after their first diagnosis of central nervous system (CNS) demyelination.
While an anti-inflammatory diet does not replace anti-inflammatory medications in MS, this study provides evidence that an anti-inflammatory diet could contribute to the health and well-being of people with MS.
Also known as clinically isolated syndrome (CIS), a "classic" first CNS demyelinating event is the initial presentation of neurological symptoms that are attributed to inflammation and loss of myelin — the fatty substance that surrounds and protects nerve cells. It can also be considered a person's first MS attack, or relapse, for people who eventually go on to develop the neurodegenerative disease.
The study included patients who had experienced classic CIS, as well as those with progressive-onset disease, and patients with CIS and a history of another undiagnosed event. All 190 people, with a mean age of 39.3, went on to be diagnosed with MS during the course of follow-up.
Participants completed a food frequency questionnaire that probed their typical diet over the last year, which was completed at the study's start as well as after five and 10 years.
DII scores were calculated based on those reports, and were adjusted for energy intake and metabolism. Relapse rates, disability progression, and MRI measures were also recorded throughout follow-up.
Results overall showed that for each one-unit increase in DII — reflecting a more inflammatory diet — a person's relapse risk increased by 18%. Also, the 25% of patients with the highest energy-adjusted scores were 2.24 times more likely to experience a relapse than the 25% with the lowest scores.
No link found between DII scores and total lesion load in entire group
Regarding MRI outcomes, no associations were observed between DII scores and total lesion load in the entire group. However, when the analysis was limited to include patients who underwent MRI using the same scanner and who had classic CIS when they entered the study, results did indicate that those with the highest 25% DII scores had a significantly higher lesion volume than those with the lowest 25% scores.
No associations were observed between DII scores and changes in disability over time for the MS patients, even when the analysis was restricted to patients diagnosed with classic CIS. Similarly, dietary intake did not show any significant association with black hole lesions, a type of lesion that typically indicates a chronic, neurodegenerative stage of disease, in which nerve damage is permanent.
Overall, the findings are "consistent with a stronger association between DII score and inflammatory pathology leading to clinical relapses … but less so with longer-term progression in disability and atrophy [brain wasting]," the researchers wrote.
"Further prospective studies, including randomised control trials, are important to confirm that anti-inflammatory diets are beneficial on relapse rate and MRI markers in people with MS," the team concluded.