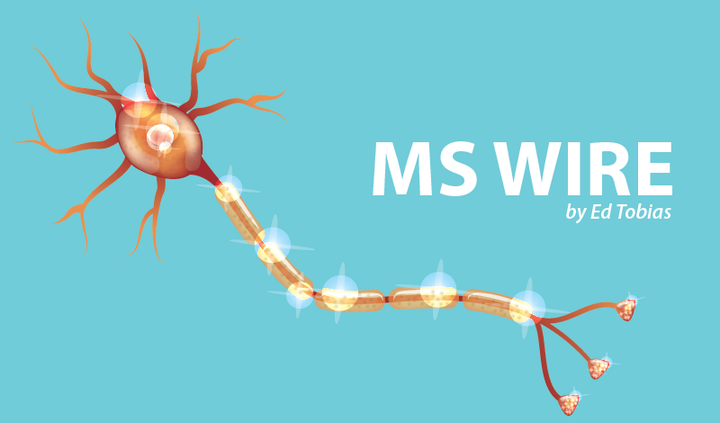 I'll admit I was nervous as I sat in the infusion chair for Day 1 of Round 1 of my Lemtrada (alemtuzumab) infusions. I'd read a lot, and talked with my neurologist a lot, about the drug. I knew the benefits of Lemtrada could be great. My multiple sclerosis progression could be stopped dead in its tracks. Some MS patients even had some of their symptoms improved.
But there also were risks.
The drug would weaken my immune system in order to rebuild it. Lesser symptoms might appear, including chills, fever, hives, rash, scratchy throat, body aches, nausea and significant fatigue. I've mentioned the more serious side effects in earlier columns.  You also can read about them on the Lemtrada website.
So, I was nervous.
But, convinced that my potential gains outweighed my possible risks, I told Carrie, my infusion nurse at the MS Center of Greater Washington, D.C., to bring it on:
In it went to the IV bag for a four-hour infusion. (The actual Lemtrada infusion was preceded by an hour's drip of the steroid Solu-Medrol to calm my immune system. And Benedryl by IV). Now the drugs are pumping and so is water — lots and lots of water. I forced myself to chug a 17-ounce bottle most hours, gulping five bottles that first day.
At midday things were proceeding well:
My vital signs were taken each hour. During the course of the day my temperature rose slightly and I felt some pressure in my head, but no actual headache. The head pressure eased when a little Toradol was added to my IV during the final hour and my temp came down quickly. I had a blanket standing by, because many patients have reported chills, but I never needed it.
Days 2 – 5
Day 2 was the same routine. Lots of water intake and output, a little rise in body temp, but no head pressure or pain. My blood pressure rose a bit. Rather than feeling chilly, I felt warm.
The final three days my BP continued to be above my normal range, but not high enough to cause any concern. I was told that's a result of the steroids. No longer was I warm. Rather, I felt comfortable and, sometimes, cool.
We are sorry that this post was not useful for you!
Let us improve this post!
Tell us how we can improve this post?