I Hope My MS Treatments Are Done for Good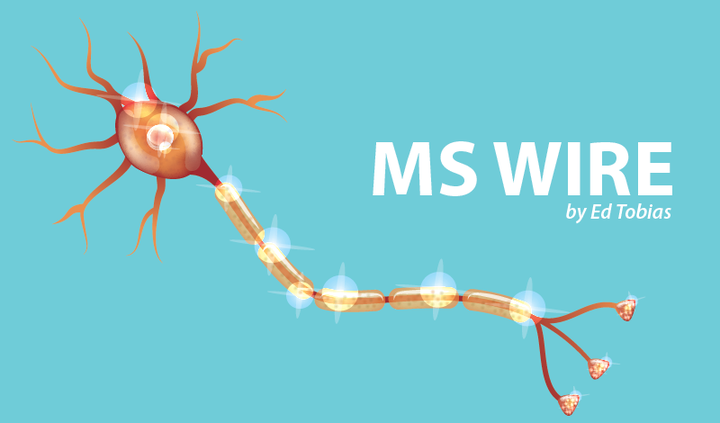 With apologies to Edgar Allan Poe, quoth the Lemmie, "Nevermore."
As I write this, the final brown bag of Lemtrada (alemtuzumab) has just begun to drip into a vein in my left arm. If all goes "as advertised," this will be the final disease-modifying therapy I'll ever receive.
It's been a long journey since I was first diagnosed in 1980, and the speed bumps have continued right up until the final leg. A couple days ago, during day one, round two of my Lemtrada infusions, I became a little dizzy about 15 minutes before my drip ran dry. It happened while I was using the bathroom. I began to shiver, and my blood pressure dropped to around 80/60.
After being helped back to my recliner and lying back under a couple of blankets, I felt better and my blood pressure began to rebound. Similar episodes have hit me once or twice a year for the past 20 years or so. My doctors have never been able to determine why this occurs. Because this problem began long before my Lemtrada treatments, I doubt that it has anything to do with the medication. However, some problems are related to it.
The Lemtrada rollercoaster
Use any analogy you like: a rollercoaster, a winding road, speed bumps. For most Lemtrada patients, the journey is one of ups and downs. Near the end of January 2017, I wrote:
"Month two post-infusion began with a good lab report, but also with an appearance of the up-down fatigue monster. On several days it was very tough getting out of bed. Other days I felt good when I woke up, but then I took a dive in mid-afternoon and had to head back for a nap for a couple of hours. Many nights involved getting up for multiple 'pee trips,' which didn't help my energy level. Add to this one middle of the night and one middle of the afternoon episode of fever and chills (which were handled with 800 mg of Ibuprofen) and it's made for an uncomfortable ride. One day I finally listened to my body and spent the whole day in bed. It helped, but it didn't stop the coaster."
This downslide around six weeks after the first series of infusions seems typical for patients receiving Lemtrada. In my case, it may have been caused by a combination of driving to Florida about two weeks earlier and, somehow, catching a strep infection. (Gotta keep washing those hands.) When the infection cleared, things got much better for me.
Is Lemtrada helping me?
At 18 weeks, my wife and I both thought I was walking a little better and standing straighter. My mind felt sharper. My concentration was better. But I also developed some, hip, back, and leg pain.
At six months, I was able to flex my left foot up from the ankle just a little, and that was new. Cramping in the insoles of my feet, which took place almost every night when I got into bed, had been significantly reduced. My brain MRI showed no new, active, or growing lesions (though that's been the case for several years). But the aching pain in both hips continued. It would shoot down one or both legs when I put weight on them. It was worse in the mornings, particularly if I was trying to get up from squatting down.
At nine months, my hip pain was almost gone. That may be because I'd gone back into physical therapy a couple days a week and I'd been doing a lot of swimming.
While in Florida earlier this year, I noticed that for the first time in a long time, I could rise from a squat without holding on to anything to help pull myself up.
Thaaat's all, folks
I was supposed to begin round two of Lemtrada last December. But after learning a lesson from last year's trip to Florida, my neurologist and I decided to wait to start until after I returned home. And that brings me to today. Lemtrada has destroyed the bad B- and T-cells, and my body is slowly replacing them with ones that don't have the rogue attachment that attacks my myelin. My neurologist calls the process "stem cell lite."
I'm feeling good. My lab tests are good. My neurologist says that since I began Lemtrada infusions my walking speed has increased, my strides are longer, my upper extremity mobility is faster and, overall, I'm stronger and more mobile.
My treatment road has been long. I've been on one type of disease-modifying therapy or another since 1986, including Avonex, Tysabri, Aubagio, and Lemtrada. Now, it seems I've reached the end of that road. In the immortal words of Bugs Bunny …
At least I hope that's all, folks. I'll keep you posted.
You're invited to visit my personal blog at www.themswire.com.
***
Note: Multiple Sclerosis News Today is strictly a news and information website about the disease. It does not provide medical advice, diagnosis, or treatment. This content is not intended to be a substitute for professional medical advice, diagnosis, or treatment. Always seek the advice of your physician or other qualified health provider with any questions you may have regarding a medical condition. Never disregard professional medical advice or delay in seeking it because of something you have read on this website. The opinions expressed in this column are not those of Multiple Sclerosis News Today or its parent company, BioNews Services, and are intended to spark discussion about issues pertaining to multiple sclerosis.