MS News that Caught My Eye Last Week: Diagnosis by Antibody, Ocrevus After 6 Years, Telemedicine, New DMT Pill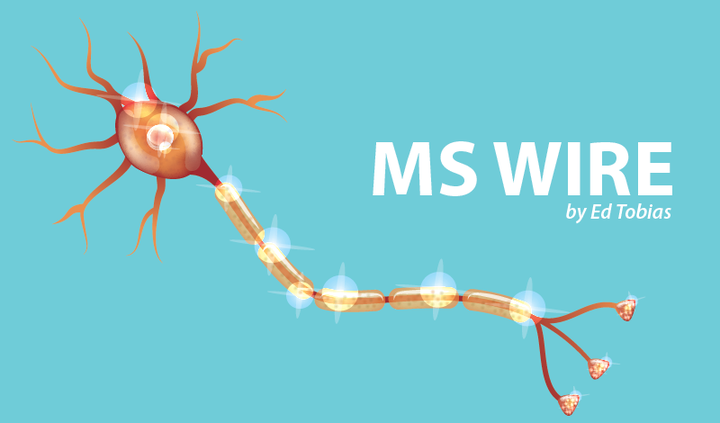 My neurologist likes to say that "brain is time." The sooner MS is treated the more time you can buy before the brain begins to deteriorate and MS symptoms appear. Being able to diagnose MS sooner means earlier treatment. These researchers think they can achieve that by detecting an antibody in spinal fluid that's involved in destroying myelin. In this small trial, MS was diagnosed correctly more than 98% of the time. I hope this group moves ahead quickly.
A new tiny sensor is able to detect antibodies against myelin, the protective coating of nerve cell axons whose destruction is a hallmark of multiple sclerosis (MS), potentially allowing for a diagnosis in early disease stages, researchers report.
It also offers the possibility of distinguishing multiple sclerosis from neuromyelitis optica, a rare autoimmune inflammatory condition that shares symptoms with MS.
Click here to read the full story.
***
If Ocrevus (ocrelizumab) can slow MS progression this much, it's a wonderful thing. But this study compares people who started Ocrevus treatments immediately after diagnosis with people who delayed treatment for two years. As I noted in the previous story, "time is brain." So, these are results I also would expect with other disease-modifying therapies (DMTs). And Ocrevus was compared with Rebif (interferon beta-1a), which is considered to have lower efficacy than Ocrevus. I wonder if the same 49% would emerge if Ocrevus was compared with the other two high-efficacy DMTs, Lemtrada (alemtuzumab) and Tysabri (natalizumab).
Starting treatment with Ocrevus early can lower almost by half the need for a walking aid in people with relapsing forms of multiple sclerosis (MS) over six years, new analyses of Phase 3 trial data that compared immediate initiation with a two-year delay show.
A separate analysis also found that Ocrevus' use can lessen damage to the thalamus, a brain region important in sensorimotor processing.
Click here to read the full story.
***
When I interviewed Dr. Aaron Boster about telemedicine a few weeks before this story was written, Boster told me that telemedicine worked well for him because MS neurologists know their patients very well. As you'll read in this article, other neuros have similar thoughts. Telemedicine certainly has many benefits, but I'm not a big fan. I like a hands-on approach, even though I need to drive three hours each way to be seen by my neurologist. In a situation like we're in today, however, a virtual visit is better than no visit at all.
While there are few silver linings to the cloud created by COVID-19, the pandemic that has killed tens of thousands, hobbled economies worldwide and drove millions to quarantine in their homes, one may be a new appreciation of telemedicine.
"If something good could come out of this crisis, it's that we would learn how valuable telehealth could be to our community," said Steven Shook, a neurologist at the Cleveland Clinic in Ohio. Shook specializes in neuromuscular disorders such as Parkinson's, muscular dystrophy, myasthenia gravis, spinal muscular atrophy (SMA), and amyloid lateral sclerosis (ALS), and in polyneuropathy.
Click here to read the full story.
***
The good news from this trial is that these results are promising. The better news, for me, is that Phase 3 trials will include people with progressive MS as well as the relapsing form.

The investigational, oral BTK inhibitor SAR442168 can limit the number of new inflammatory brain lesions in people with relapsing forms of multiple sclerosis (MS), results from a Phase 2b clinical trial show.
"The results of this study give hope that SAR442168 may become an important treatment for relapsing MS," Daniel Reich, MD, PhD, a senior investigator at the National Institutes of Health and principle investigator for the Phase 2b trial, said in a press release from Sanofi, the company developing this small molecule therapy under a licensing agreement with Principia Biopharma.
Click here to read the full story.
***
Note: Multiple Sclerosis News Today is strictly a news and information website about the disease. It does not provide medical advice, diagnosis, or treatment. This content is not intended to be a substitute for professional medical advice, diagnosis, or treatment. Always seek the advice of your physician or other qualified health provider with any questions you may have regarding a medical condition. Never disregard professional medical advice or delay in seeking it because of something you have read on this website. The opinions expressed in this column are not those of Multiple Sclerosis News Today or its parent company, BioNews Services, and are intended to spark discussion about issues pertaining to multiple sclerosis.