Do People With MS Need a 3rd Vaccine Shot?

Now that a third COVID-19 vaccine shot has been approved in the U.S. for immunocompromised people, and vaccine boosters are expected to be available to the general public sometime after Sept. 20, Walgreens and CVS have lost no time in offering the additional shot to those who qualify.
Like their previous policies for vaccine shots and COVID-19 tests, the stores require people to make appointments online, and they'll be happy to jab you.
But should you get that extra shot? For now, it depends on how immunosuppressed you are.
The U.S. Centers for Disease Control and Prevention (CDC), which recommended the third dose for immunocompromised people last week following special authorization for it by the U.S. Food and Drug Administration, said that people with compromised immune systems "may benefit from an additional dose to make sure they have enough protection against COVID-19." The CDC, however, doesn't specifically mention multiple sclerosis in their guidance, and not all people with MS have compromised immune systems.
In its guidance, the CDC stressed the importance of a third shot particularly for organ transplant recipients, stem cell transplant recipients, patients receiving cancer treatment, people with HIV, and others. 
Additionally, in an announcement on Wednesday, the administration of U.S. President Joe Biden announced plans to offer booster shots to anyone who had received the two-shot Pfizer or Moderna vaccines eight months ago, starting with nursing home residents, healthcare workers, and emergency workers, The New York Times reported. 
Which people with MS are immunocompromised?
By itself, MS doesn't suppress the immune system. It's actually the opposite. MS shifts the immune system into overdrive, hyping up cells that attack parts of the nervous system. Several disease-modifying therapies (DMTs), however, do suppress the immune system, which is how they halt those cellular attacks.
When you read that a third COVID-19 vaccine shot may be recommended for people with MS, it refers to the people whose immune systems are suppressed by one of these DMTs.
And as Chicago's ABC7 pointed out, for immunocompromised people, a third shot isn't really a booster, which is for people whose immunity has dissipated over time. Immunocompromised folks weren't sufficiently protected in the first place by the initial two shots, ABC7 noted.
Immunosuppressive DMTs include Lemtrada (alemtuzumab), Mavenclad (cladribine), Gilenya (fingolimod), Ocrevus (ocrelizumab), and rituximab. It's important to understand that each of these DMTs suppresses the immune system a bit differently and for different lengths of time.
For example, to be effective, Ocrevus needs to keep certain immune cells suppressed continuously. But these cells repopulate after about six months. That's why Ocrevus treatment is required twice a year.
Lemtrada works differently. Some of those cells rebound quickly, while others may take a year or longer after a second Lemtrada treatment.
Ask MS doctors
Dr. Aaron Boster, an MS neurologist, noted that people who have been treated with immunosuppressant DMTs should be candidates for an extra dose of the vaccine.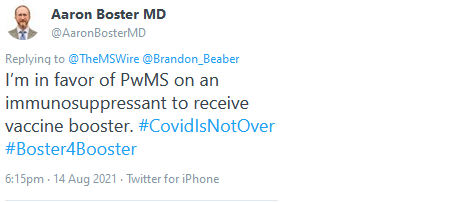 Dr. Brendon Beaber, who also is well respected in the MS community, added a few more DMTs than I've mentioned:

No 3rd jab for me yet
In my case, over three years have passed since I was last treated with Lemtrada. I haven't been treated with another DMT since then, and my immune system should be back to full strength. A blood test last April showed that my antibody levels after two shots of the Moderna vaccine should provide robust protection from COVID-19.
As my neurologist told me in an email, "You have a phenomenal response to the vaccine." She said my Lemtrada treatments are no longer suppressing my immune system, so I don't need a third vaccine shot yet.
Nevertheless, given the Biden administration's announcement this week, I will revisit this issue about eight months after having my second dose of the Moderna vaccine. 
If you've been treated with a DMT, one question you might want to ask your neurologist is, "Has my DMT suppressed my immune system, and is it still suppressed?" If the answer is yes, your neurologist might suggest you head out soon for a third shot. If not, stay tuned for more news in late September. 
For those who received the one-shot Johnson & Johnson vaccine, studies are ongoing regarding the need for, and effectiveness of, a booster shot. More information could become available as early as next week, according to news reports.
You're invited to visit my personal blog at www.themswire.com.
***
Note: Multiple Sclerosis News Today is strictly a news and information website about the disease. It does not provide medical advice, diagnosis, or treatment. This content is not intended to be a substitute for professional medical advice, diagnosis, or treatment. Always seek the advice of your physician or other qualified health provider with any questions you may have regarding a medical condition. Never disregard professional medical advice or delay in seeking it because of something you have read on this website. The opinions expressed in this column are not those of Multiple Sclerosis News Today or its parent company, BioNews, and are intended to spark discussion about issues pertaining to multiple sclerosis.