Real-World Data Shows Tecfidera Comparable to Gilenya at Preventing Relapses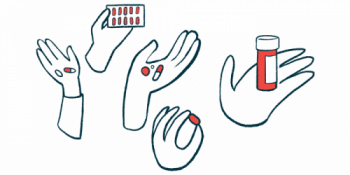 Tecfidera (dimethyl fumarate) appears to have similar benefits to Gilenya (fingolimod) in preventing relapses and the loss of motor function and cognition in people with multiple sclerosis (MS), a study with real-world data found.
The two medications also led to similar findings on MRI scans, including in brain volume loss and number of lesions, and on the levels of serum neurofilament light chain (sNfL), a biomarker of nerve cell damage.
These results "were consistent with and further strengthen prior findings showing comparable effectiveness" between the two therapies, according to investigators — meaning that Tecfidera works as well as Gilenya to reduce the risk of relapses and how often they occur.
These findings "may facilitate personalized treatment choices" for people with MS, the researchers wrote.
The study, "Real-world effectiveness of dimethyl fumarate versus fingolimod in a cohort of patients with multiple sclerosis using standardized, quantitative outcome metrics," was published in the Multiple Sclerosis Journal – Experimental, Translational and Clinical.
In MS, the immune system turns against myelin, a fatty substance that covers and insulates nerve cells and is essential for proper nerve communication. As myelin gets damaged, nerve cells become less efficient at sending signals to one another and to the rest of the body, causing symptoms of the disease.
Tecfidera, initially developed by Biogen and also available in the U.S. as a generic, works by reducing the inflammation that damages the nerve cells and the insulating sheath around them. It does this by interacting with a protein called Keap-1, which triggers the death of certain immune cells called macrophages and neutrophils.
Another MS medication, Gilenya, initially developed by Novartis and also available in generic versions, also reduces inflammation, but through a different mechanism. It acts on the sphingosine 1-phosphate (S1P) receptor, and essentially prevents T-cells — a type of immune cell involved in myelin damage — from leaving lymph nodes and reaching the brain and spinal cord.
Both Tecfidera and Gilenya are available as oral capsules. Previous real-world data have shown that the two medications are equally effective at reducing relapses and preventing disability progression. The number of new lesions and lesions with active inflammation also was similar with the use of either therapy in other studies.
However, studies to date have not used standardized measures to make this comparison, the researchers noted.
Thus, the goal here was "to explore several clinical, radiological, and biomarker outcomes not included in prior comparative effectiveness studies," the team wrote.
Multiple Sclerosis Partners Advancing Technology and Health Solutions, or MS PATHS, a Biogen-sponsored network of healthcare institutions in the U.S. and Europe, allows for the real-world assessment of patients in a standardized manner.
Now, a team of researchers in the U.S. set out to compare the two medications by looking at data from MS PATHS, using participating centers in the United States. They particularly focused on comparing the therapies' efficacy on neuroperformance tests, additional MRI findings, and the levels of sNfL, a protein that gets released into the bloodstream upon damage to nerve cells.
The study, sponsored by Biogen, included patients who were taking Tecfidera or Gilenya at the time of their first MS PATHS visit, with a follow-up of at least one year, and who had undergone one or more MRI scans in the previous year.
A total of 702 patients on Tecfidera and 600 on Gilenya were examined. Compared with patients on Gilenya, those on Tecfidera were older when symptoms first appeared and at the first visit. The Tecfidera patients also had longer education duration, were more likely to have cardiovascular diseases, and were more likely to have been on interferon medications or glatiramer acetate (sold as Copaxone, among others).
At the first visit, these patients also scored worse on a processing speed test, a tool that measures how efficiently a person can perform tasks that require processing of information.
The analyses that followed took into consideration a number of factors that could influence neuroperformance tests, including age, sex, education, MS duration, prior therapies, and co-existing disease.
Results showed that, after accounting for differences in such factors, patients on Tecfidera and Gilenya reported a similar change in relapse rate after one year and performed equally well on neuroperformance tests. These tests measured processing speed, manual dexterity, walking speed, and vision.
MRI findings, including the amount of lost brain volume and the number of new brain lesions, also were similar between the two groups, as were sNfL levels.
"These data confirm and expand upon prior reports demonstrating comparable effectiveness, including equivalent MRI outcomes," the researchers concluded, noting the two therapies "demonstrated similar effects on physical and cognitive neuroperformance."