EBV Antibodies Found at Increased Levels in MS Patients in Study
Researchers study links among prior EBV infection, genetic variation, and MS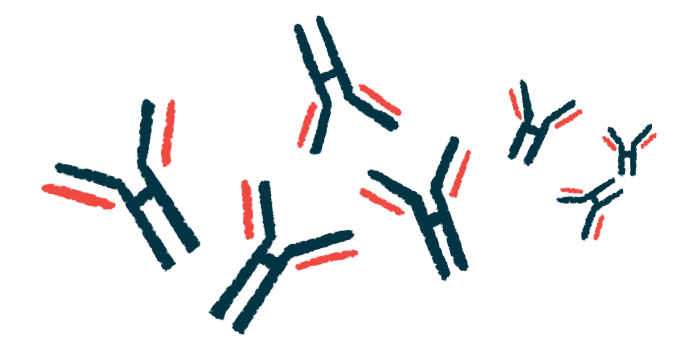 People with multiple sclerosis (MS) are significantly more likely to have antibodies against the Epstein-Barr virus (EBV) — the strongest risk factor for the disease — than healthy individuals, as well as higher levels of these antibodies, according to a Spanish study.
All MS patients were positive for anti-EBV antibodies versus 94.9% of healthy people, adding to several prior studies highlighting that the disease rarely, if ever, occurs in the absence of prior EBV infection.
Data also showed the presence of several genetic variants associated with lower blood levels of anti-EBV antibodies were linked to a later disease onset among MS patients.
Still, anti-EBV antibody levels weren't strongly associated with most clinical features, other MS risk factors, or responses to disease-modifying therapies (DMTs) in these patients.
The study, "Epstein-Barr Virus and multiple sclerosis in a Spanish cohort: A two-years longitudinal study," was published in Frontiers in Immunology.
Research suggests EBV may be the leading environmental cause of MS
MS is thought to arise from a combination of genetic and environmental risk factors, with the list of potential risk factors increasing in recent years. A continuously growing body of evidence supports the idea that EBV may be the leading environmental cause of the autoimmune disease.
A common virus that infects most people at some point in their lives, EBV isn't usually accompanied by symptoms. In the largest, most definitive study to date, researchers have identified that a prior EBV infection, evidenced by the presence of antibodies against the virus, raises the risk of MS by about 32 times.
Research suggests structural similarities between an EBV protein and a brain protein can cause antibody-producing immune cells, called B-cells, to accidentally attack a person's own healthy tissue while trying to fight off the virus. B-cells are the main target cells of EBV, and it's inside these cells that the virus remains dormant after infection.
While EBV may be a critical risk factor, it isn't enough to cause MS, but likely works with other factors to drive the onset of the autoimmune condition.
Now, a team of researchers in Madrid, Spain, examined whether anti-EBV antibodies were associated with other MS risk factors and clinical presentation, and whether response to DMTs would be influenced by these factors among a group of Spanish MS patients.
A total of 325 people with relapsing-remitting MS (217 women and 108 men) and 295 healthy adult blood donors (115 women and 180 men), who served as a control group, were included in the analysis.
Patients were being treated with interferon-beta — such as Rebif (interferon beta-1a) and Betaseron (interferon beta-1b) — glatiramer acetate (sold as Copaxone, with generics also available), or Tysabri (natalizumab) for two years. Their blood samples were collected within the month before starting treatment and two years later.
Blood samples from patients and controls were evaluated for the presence of two types of anti-EBV antibodies: EBNA-1, which is generally used to identify an older infection, and VCA, which generally indicates a more recent infection.
Results showed that a significantly higher proportion of untreated MS patients were positive for these antibodies relative to healthy controls. Specifically, 97.8% of patients and 87.1% of controls had anti-EBNA-1 antibodies, and 99.7% of patients and 94.6% of controls had anti-VCA antibodies.
All MS patients before DMT were positive for at least one of these antibodies, compared with 94.9% of healthy people, a difference that was statistically significant.
Blood levels of each antibody were also significantly higher in the MS group.
'MS occurs rarely in absence of EBV'
These findings "confirm that MS occurs rarely in absence of EBV as it has been previously suggested," the researchers wrote.
Since major predisposing factors for MS, including vitamin D deficiency, smoking, and a mutation in the HLA-DRB1 gene called HLA-DRB1*15:01 have also been linked to anti-EBV antibody levels, the team divided participants according to these MS risk factors.
MS patients still showed significantly greater prevalence and levels of anti-EBV antibodies than healthy controls after most of these stratifications. However, no significant differences in antibody prevalence were observed between patients and controls who smoked and those with vitamin D levels above the median.
The team also found that the levels of antibodies against EBV before DMT were associated with a patient's genetic background.
The presence of a specific form of the HLA gene, called DR3, was associated with lower anti-EBNA-1 antibody levels, whereas the DR6 form was linked to higher levels. HLA genes provide instructions to make proteins that play a critical role in immune system activation.
Also, patients with the rs11129295TT variant in the EOMES gene had significantly higher anti-EBNA-1 antibody levels. The EOMES gene codes for a protein whose immune function appears to be reduced in MS patients.
For patients with genetic variants associated with lower anti-EBNA-1 antibody levels, MS started on average 3.5 years later than among those without those variants, which the researchers noted as "an intriguing association" warranting further investigation.
Moreover, anti-EBNA-1 antibody levels were significantly higher among MS patients who had fewer relapses in the two years before starting DMTs, and anti-VCA antibody levels increased with age.
"Both data should be analyzed in further studies with [larger groups of patients] to better understand their possible clinical relevance," the researchers wrote.
Neither the prevalence or levels of either of the antibodies changed significantly after two years of DMTs, even when patients were stratified by other risk factors. Likewise, antibody levels were not linked to clinical responses, including number of relapses, disease progression, or therapeutic failure to any of the DMTs.
While the "DMTs included in this study did not change significantly the [levels] of the anti-EBV antibodies analyzed," the researchers wrote, similar studies with B-cell depleting MS therapies, such as Ocrevus (ocrelizumab) and rituximab, "are needed."
"It would be of great interest to perform longitudinal studies with these therapies to analyze the possible correlation between the clinical response and the variation in the EBV viral loads or antibody [levels]," the team wrote.